Updated 5/10 at 11:00pm - CNYcentral says the WTVH 5.1 transmitter is back in operation tonight, but it's just temporary.  To complete the repairs, additional parts will be installed at the transmitter on Wednesday.  As a result, WTVH 5.1 will sign off again on Wednesday morning, but engineers hope to have it back online -- for good, this time -- by Wednesday night.  WSTM-DT 3.3 continues to simulcast WTVH in standard definition.  WTVH-HD remains available on its usual channel number for cable and FiOS customers.
Original Coverage from May 9
SYRACUSE -- Over-the-air viewers of CBS affiliate WTVH will have to look elsewhere for CBS programming for now.  Since at least yesterday, the main transmitter (channel 5.1) has been "off the air due to a transmitter problem."  Until it's fixed, CBS programming is temporarily available -- albeit in standard definition -- on sister station WSTM's subchannel 3.3.
Many viewers aren't affected as the outage doesn't impact customers of Time Warner Cable, Verizon FiOS or New Visions cable systems.  WTVH feeds its signal directly to the cable companies via fiber, bypassing the transmitter.  However, the " CNYcentral" channel, normally looping pre-taped news and weather content, is temporarily replaced by WTVH, even on cable systems.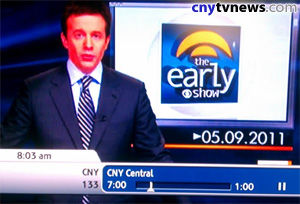 When the outage first started, satellite viewers were left in the dark, as both DirecTV and Dish Network use WTVH's over-the-air signal to bring the station into their lineups.  As of Sunday night, CNYcentral.com says Dish Network has adjusted its equipment to pick up the 3.3 signal, but DirecTV customers are still without WTVH.  The station says DirecTV has been notified of the change, but they have yet to adjust their tuning equipment.
Viewers who were upset about missing the CBS prime-time lineup last night (including the finale of The Amazing Race) were reminded that most programming is also available online.
As of Monday morning, CNYcentral says there's no estimate on when the WTVH transmitter will be back to normal operation.  Some viewers pointed out, this isn't the first time WTVH's transmitter has been knocked off the air.
Coverage Elsewhere
Got News?
Don't wait for us to find it elsewhere -- if there's news happening at your station, let us know directly so we can get the story posted that much sooner.  Our email address is cnyradio@cnyradio.com -- we value our sources, so if you want to remain anonymous, just say the word and your name will never be mentioned, on the site or off.  If you don't even want us to know who you are, use the Contact Form... even though there are spaces for your name and email, you can leave them blank.