UTICA/ROME -- Earlier this month, you read here that Kiss-FM (WSKS/WSKU) has started the search for a new night jock after Johnny Lew announced he's leaving the station.  After nearly two years with the CHR station, Lew's last show is tonight.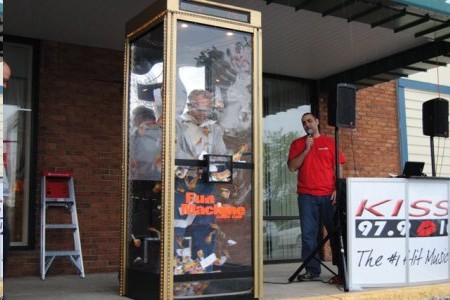 That's Lew in red on the right, manning the Kiss-FM Cash Cube during a recent remote broadcast appearance.  Although PD Shaun Andrews didn't mention where Lew's headed, a quick check on Facebook reveals Lew won't be hanging up his headphones for good -- but he's not headed to a different radio station, either.  Lew operates a mobile DJ service and will be devoting plenty of his schedule as the new in-house VJ for one of the establishments along Utica's Varick Street.
Earlier Coverage
Got Pictures?
Whether you're in radio or TV, we're always looking for pictures of what's happening today at your station... or a look back at a blast from the past.  Send those shots to cnyradio@cnyradio.com or upload them via the Contact Form.  There's a new Picture of the Week every Friday.