ITHACA -- It's always exciting when the home team wins, even better when it's a comeback victory.  But for the broadcast team from ESPN Radio 1160 (WPIE), strong winds created a bit of an annoyance during Wednesday's Class A boys lacrosse quarterfinal between West Genesee and Ithaca.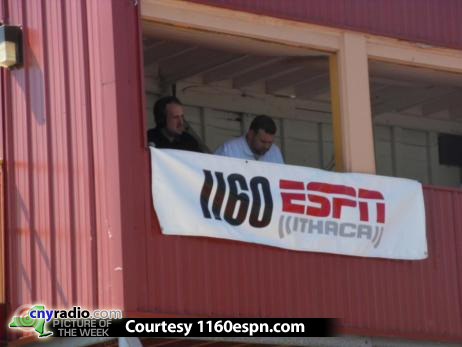 Matt Schultz (left) and Brian Delaney were in the press box at Ithaca High School for the game.  According to the caption on ESPN 1160's website, "this photo was taken during the 30 seconds when the wind wasn't gusting at 50 mph.  That sign was blowing in and out of the window most of the game!"
To explain the lead paragraph, West Genesee took an early 4-point lead, but Ithaca managed to make it a tie game (5-5) by the half, and eventually win 15-10.  You can see a couple more "in the booth" shots from Wednesday's game on the ESPN 1160 website.
Got Pictures?
We're always interested in a look at what's happening today at your station... or a blast from the past.  Although most of our pictures so far have been radio-related, we welcome contributions from TV as well.  Send those shots to cnyradio@cnyradio.com and check back for a new Picture of the Week every Friday.