BOLTON LANDING -- Earlier this week, we reported that Central New York TV and radio stations fared well at the New York State Broadcasters Association's annual awards banquet.  Today, we look back at an evening that was especially memorable for longtime NewsChannel 9 co-anchors Rod Wood and Carrie Lazarus.
After more than 25 years co-anchoring together at the ABC affiliate, Rod and Carrie were inducted to the NYSBA Hall of Fame on Monday night.  Today's edition of Picture of the Week has three photos: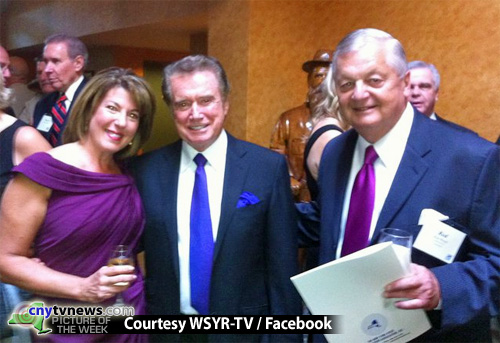 First up, from the NewsChannel 9 Facebook page, the two anchors rub elbows with fellow Hall of Fame inductee Regis Philbin.  The following morning on the nationally-syndicated Live! with Regis and Kelly, Philbin spoke for several minutes about the banquet, even mentioning Rod and Carrie by name as he displayed a (different) group photo of this year's inductees.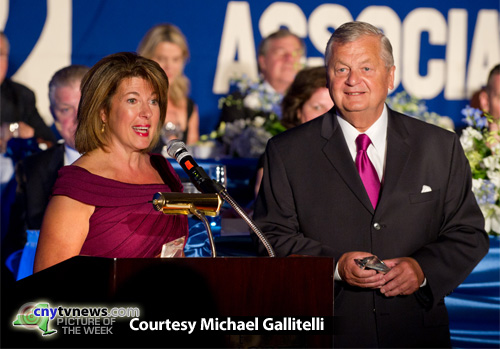 Photos above and below were both taken by Michael Gallitelli, and supplied to CNYTVNews.com by Reuckert Advertising and Public Relations on behalf of the New York State Broadcasters Association.  "Carrie and Rod are broadcasting treasures," said NYSBA President Joseph A. Reilly. "The Central New York area has been so fortunate to have this team in their backyard for more than two decades. They're not just reporters or anchors.  They are truly a part of the Syracuse community and their viewers have come to know and love them."
NYSBA points out that Rod and Carrie are one of the longest-running anchor teams in the entire country.  WSYR-TV also won the Outstanding Promotion Announcement or Series award for "Been There, Always Here," a special documentary detailing the duo's quarter-century behind the anchor desk.  If you missed the special when it was aired on TV last year, it's available on 9WSYR.com.
Got Pictures?
There's a new Picture of the Week every Friday, but we rarely have our photos planned more than a day or two in advance.  That means there's always room for your reader submissions!  Whether it's a look at a recent happening at your station, or a "blast from the past," you can submit those shots via traditional email or upload them through our handy Contact Form.