SYRACUSE -- Former WSYR radio news anchor Eric Reinhardt is returning to radio full-time. After spending the last 3 years working for the Central New York Business Journal (and voicing "Business Briefs from the Central New York Business Journal" for WSYR), Reinhardt will join the news team at Buffalo's WBEN this Monday. Earlier this week, some former colleagues gathered to bid Eric farewell.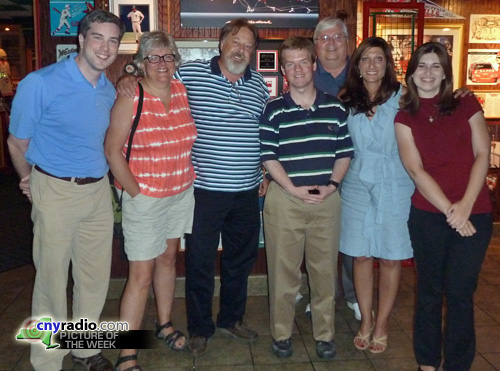 All of the folks in this photo share with Eric, the distinction of having formerly worked at WSYR in some capacity. From left, CNYRadio.com Editor Peter Naughton, WRVO reporter Ellen Abbott, WIBX News Director Jules Thompson, Reinhardt, WRVO Senior Reporter/Producer Dave Bullard, former WSYR reporter Tiffany Latino and CNY Central (WSTM/WSTQ/WTVH) reporter/anchor Jessica Cain.
Prior to joining the Business Journal, Reinhardt worked full-time at WSYR from 2004 to 2007, helping the news staff cover a high profile child abduction in 2004.  He also helped cover the deaths of President Reagan and Pope John Paul II.
Before joining WSYR, Reinhardt worked seven years in Cortland County as a news reporter and anchor for both WKRT/I100 (WIII) and earlier for WXHC-FM in Homer.  His career in upstate New York started in late 1994 working for WPAC-FM in Ogdensburg and a three-station network serving Ogdensburg and Gouverneur in St. Lawrence County.
When Reinhardt arrives in Buffalo, he says he'll be working the evening shift, 3-11pm every night except Sundays, performing a mixture of reporting, anchoring and website duties.
Reinhardt tells CNYRadio.com he's looking forward to the new job, as it "represents a chance to return to broadcasting full time in a multimedia position. In addition, having grown up south of Erie, Pa., it also gets me closer to home and family."
But he says he won't soon forget, "I was fortunate to earn a college degree at Syracuse University, to work in jobs from the North Country to Cortland, to have made countless friends, and to have joined some of those friends in mourning the death of former colleague, Bill Leaf, in early 2006. I will miss Syracuse and will always consider it a second home."