SYRACUSE -- Rome native Kevin Torres is doing very well at his current job in Denver.  But you don't have to take his word for it -- Torres was recently nominated for three Emmy Awards, and took one home when the Heartland Chapter of NATAS announced winners this past Saturday.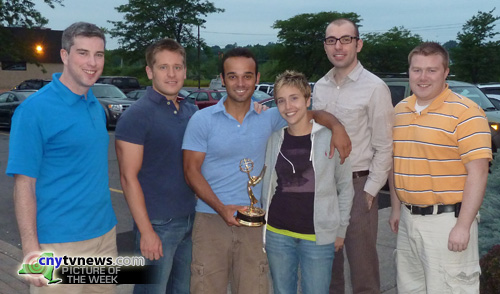 Kevin's back home in Central New York for a few days, and had dinner with some former co-workers in Syracuse on Thursday night.  Afterwards, the group posed for this photo.  From left, CNYTVNews.com editor Peter Naughton, WSYR-TV promotions director Mark Wolicki, Torres with his Emmy, Jacquie Ontano, WSYR-TV webmaster Phil Rankin and WSYR-TV photojournalist Steve Leeper.
Torres earned his Emmy in the "Reporter - Live" category, for an entry he titled, "Backpack Journalists Go Live Too?"   Judges chose Kevin's entry over two other nominees: a reporter from Denver CBS affiliate KCNC and one of Kevin's own co-workers from NBC affiliate KUSA-TV.
Other nominations for Torres came in the "Feature News Report - Light Series" category for an entry titled "Stories from Northwest Wyoming" and from the "Video Journalist" category for "Kevin Torres -- Backpack Journalist Compilation -- 'Stories from my Backpack'".
Prior to moving to Denver, the SUNY Oswego graduate worked at Watertown CBS affiliate WWNY-TV and Syracuse ABC affiliate WSYR-TV. While attending Holland Patent High School, Torres was an intern at nearby Utica NBC affiliate WKTV.
The Heartland Chapter of the National Academy of Television Arts and Sciences includes stations within the following markets: Denver, Oklahoma City, Tulsa, Wichita/Hutchinson, Omaha, Colorado Springs/Pueblo, Lincoln/Hastings-Kearney, Topeka, Grand Junction/Montrose, Cheyenne/Scottsbluff and North Platte.
Related Links
Got Pictures?
We're always interested in a look at what's happening today at your local radio or TV station -- or a nice "blast from the past." Send those photos to cnyradio@cnyradio.com or upload via the Contact Form. There's a new Picture of the Week every Friday.