SELINSGROVE, PA -- It's another "where are they now" edtion of Picture of the Week, as former local radio programmer and personality Rick "RJ" Jordan checks in. Since last September, he's been working as PD for country station B98.3 (WWBE Mifflinburg), which has been trimulcasting on 92.3 WLGL and 100.5 WYGL-FM. This week, Jordan has some updates and some photos to share with his former colleagues back here in Central New York.
Rick says he recently had some fun with flipping WLGL over to a classic rock format, branded "92.3 The Drive" last Thursday -- but it was just a stunt. After the weekend, WLGL flipped again, becoming ESPN 92.3, picking up the sports-talk format which was originally available only on the cluster's 1240 WYGL. The stations also changed call letters to WVSL and WVSL-FM, for "The Valley's Sports Leader."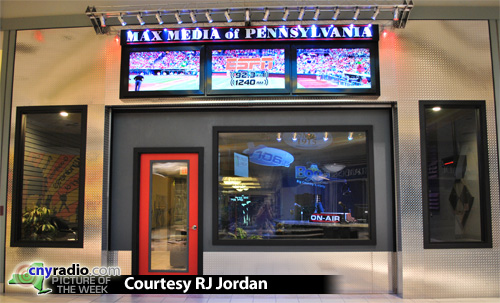 In addition to the format flips, RJ says his Max Media cluster recently launched a brand new broadcast studio inside the Susquehanna Valley Mall. Above, an exterior shot of the studio. Below, you'll find RJ on the far right, posing with some co-workers in the new studio.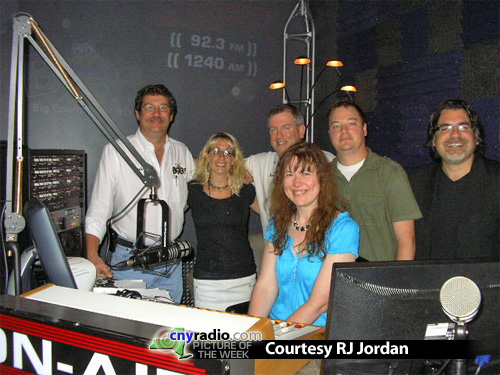 RJ says "it's a fully functional studio, to be shared by B98.3, ESPN 92.3, and our hot AC sister Y106.5." He says the stations took turns broadcasting live from the mall all this week. Here's one more shot, providing a closer look at the inside of the studio: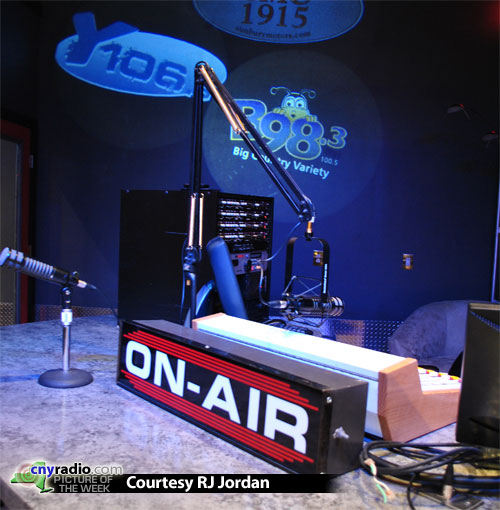 Got Pictures?
Our thanks to RJ Jordan for sending in these photos. We're always glad to receive photo submissions, from current local broadcasters and former local broadcasters alike. Just send your shots via email or via our Contact Form, and we'll be happy to share them with our readers in a future Picture of the Week. There's a new one every Friday, so the door's always open for more.