SYRACUSE -- When areas south and east of Syracuse suffered extreme flooding caused by rainfall from Tropical Storm Lee this week, TV stations sent crews south to document the damage.  At least one local reporter was well-prepared, walking through water a few feet deep to track down flooding victims and get the story.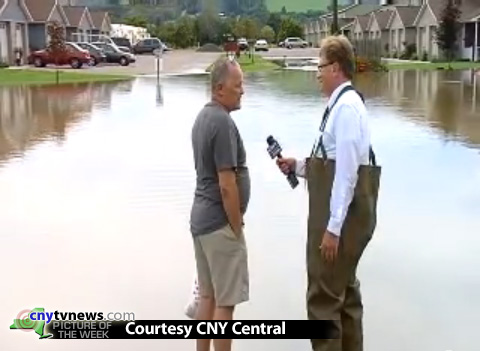 At right, CNY Central (WSTM/WTVH/WSTQ-LP) reporter Jim Kenyon -- in hip waders -- speaks with a resident who opted to stay home, rather than evacuate, when the Chenango River flooded at Sherburne today.
Bringing those waders along certainly paid off for Kenyon -- during the story, he's shown trudging through floodwaters that might be too high for regular boots.  You can watch the entire report on the CNY Central website.
Flooding Impact on Local Media
To the best of our knowledge, stations within the CNYRadio.com / CNYTVNews.com coverage area were not really impacted by the storm.  But on the Northeast Radio Watch Facebook Page, Scott Fybush reports the fiberoptic line which connects Syracuse's WSYR-TV with sister station WETM-TV in Elmira had been taken out by the flood.  WETM's website says without fiber, they have "no access to internet or outside programming."  
Fybush also reports news/talk radio station WEBO was knocked off-air for awhile on Thursday.  Someone commenting on Scott's update claimed studios at the Citadel radio cluster in Binghamton had to be evacuated.  When checking out the cluster's three music stations, the lists of "most-recent songs aired" all end shortly after 3:45pm on Thursday.
Perhaps coincidence, or purposely, the last song to be played by CHR station Wild 104 (WWYL) was "Blow" (as in, "this place is about to") by Ke$ha.  The last song on the cluster's two other music stations played one minute earlier.  As of Thursday night, all 5 Citadel Binghamton stations had what appeared to be a hastily-written mish-mash of advisories and warnings for various locations around the area, ending with an unmistakably serious, "Binghamton Mayor Matt Ryan is telling Binghamton residents remaining in their homes to evacuate NOW!"
Got Pictures?
We're always looking for more!  Radio or TV, recent or a "blast from the past," we're always grateful for your photo submissions.  There's a new Picture of the Week every Friday.  Send those shots via email or use the upload feature on our Contact Form.