SYRACUSE -- There's no doubt the Taste of Syracuse is hard to miss every June -- the festival closes several blocks of downtown streets to make way for dozens of vendors and concert stages.  But beyond Syracuse, is the event really noticeable?  Apparently the answer is yes -- at least for one camera watching from more than 400 miles away.
When it comes to staging major events, media outlets love to talk about how much attention they managed to get.  For the Taste of Syracuse -- organized by the Strategic Planning Services arm of local radio station owner Galaxy Communications, it's tough to top being able to say your event was so big, it was visible from space.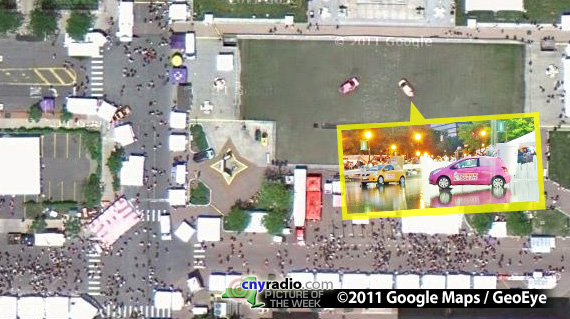 This is a screen shot of the current Google Maps satellite view of downtown Syracuse.  Although there are many festivals downtown throughout the summer, we could tell the satellite camera happened to catch the Taste of Syracuse because it's the only festival where those two Dunkin Donuts cars are parked in the middle of the Clinton Square fountain.  (See inset photo taken by your editor during the 2010 festival.)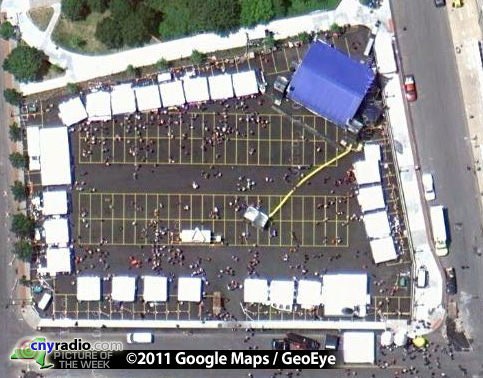 In this shot, you can see the blue material covering the main concert stage, located in a parking lot directly across from the Federal Building along South Franklin Street (we turned the map 90 degrees).
There's no telling how much longer the world will be able to peek in on the Taste of Syracuse -- Google says satellite maps are updated "regularly," but it also explains, "we're not able to provide detailed information about when a specific area will be updated."  Click here for a direct link to Google's satellite imagery of Syracuse (so you can scroll beyond what's in the screen shots above).
GeoEye, the company which provided these particular satellite images to Google, says its two imagery satellites are orbiting at an altitude of 681km, just a little over 423 miles.  That's the same as driving 6+ hours along the New York State Thruway from its starting point at the New York City border to Exit 52 in Buffalo.
Got Pictures?
We're always interested in what's happening today at your station, or a look back to a notable blast from the past.  If it has anything to do with radio or TV in the markets we cover, send those photos to cnyradio@cnyradio.com or upload via the Contact Form.  There's a new Picture of the Week every Friday, and your submission could be next!
Front page thumbnail photo credit: NASA.gov