SYRACUSE -- There's plenty of sports history here in Syracuse, and anywhere you find sports, you'll also find broadcasters.  For this latest installment of Picture of the Week, your editor snapped a few shots of broadcaster-related memorabilia on display during a recent visit to the Greater Syracuse Sports Hall of Fame.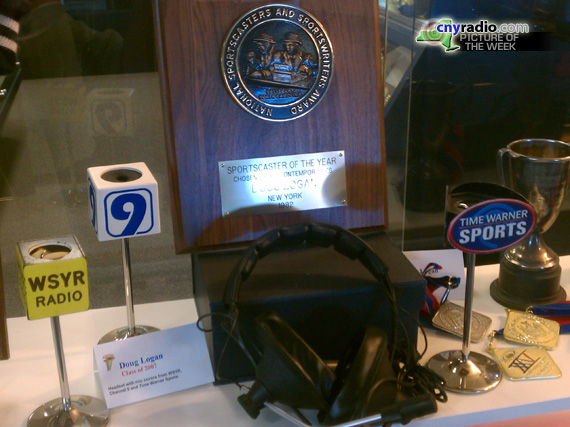 First up, some items you're likely to notice almost immediately, as they're on display front-and-center as you walk up to the Hall of Fame, located within Driver's Village (the former Penn-Can Mall) in Cicero.  These mic flags and a broadcast headset were donated by Doug Logan, a former "Voice of the Orange," who worked for WSYR Radio and NewsChannel 9 before becoming GM of Time Warner Sports.  Also on display is Doug's 1982 "Sportscaster of the Year Award" from the National Sportscasters and Sportswriters.  Doug was inducted to the hall in 2007.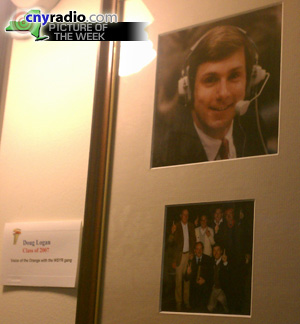 Next, a picture of some pictures -- just to the right of the items in the first photo, hangs a photo of Doug Logan wearing a (different) headset, and a photo of Doug "with the WSYR gang," according to the adjacent card.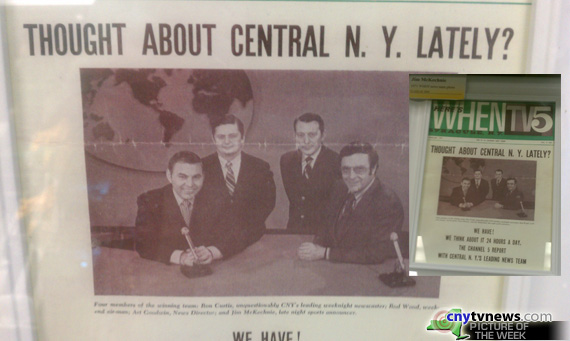 This next photo comes from a 1971 publication promoting CBS affiliate channel 5, which used the WHEN-TV call letters at the time.  It's part of the display honoring Jim McKechnie, who was inducted posthumously in 2004.  The caption below the photo reads:
Four members of the winning team: Ron Curtis, unquestionably CNY's leading weeknight newscaster; Rod Wood, weekend air-man; Art Goodwin, News Director; and Jim McKechnie, late night sports announcer.
The Sports Hall of Fame website recalls McKechnie, before going to WHEN-TV, first arrived in Syracuse to handle play-by-play of Syracuse Warriors hockey in 1951.  The following year, he handled the same duties for the Syracuse Chiefs, and in 1953, he started what would become a decade-long stint calling games for Syracuse's NBA team, the Nationals.  The page describes how McKechnie never attended away games in person; rather, plays were fed back via tickertape, and McKechnie translated the signals and called the games from WNDR's studio in Syracuse.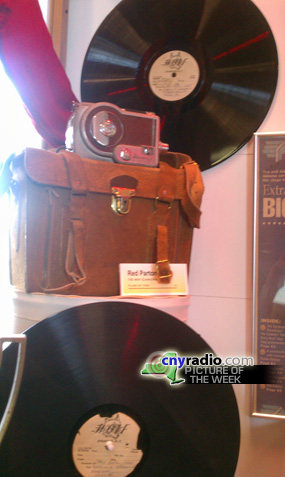 Last but not least, this display case features vinyl recordings of Claude "Red" Parton, who was the hall's first broadcaster to be inducted, in 1992.  You can see the label showing the call letters WOLF, with an illustration of a wolf in the background.  Parton worked with several local stations over a career which spanned seven decades.
After taking our photos and returning to CNYRadio.com HQ, we realized there's one more broadcaster in the hall: C-NS high school three-sport athlete Beth Mowins has been with ESPN since 1994, and was inducted to the hall in 2009.  If she or any of her fans happen to find this page, our apologies for not having any photographs -- it was not intentional.
You can read more about these folks -- and other inductees -- on the Greater Syracuse Sports Hall of Fame website.  Incidentally, their Class of 2011 induction dinner is happening this Monday night at Drumlins Country Club.  There are no full-time broadcasters in this year's class, but inductee Chris Gedney, honored for his time as a football player for SU, the Chicago Bears and the Arizona Cardinals, regularly appears on ESPN Radio's afternoon talk show, Upon Further Review.
And remember, you can check out all the items in these photos up-close for yourself (and see lots of other neat things from Syracuse sports history) at the Hall of Fame inside of Driver's Village in Cicero, anytime the building is open.  There's no admission fee; all costs to operate the hall are covered by donations.
Got Pictures?
I know nobody wants to see photos from my own collection every week, so feel free to send your own submissions to cnyradio@cnyradio.com.  Whether it's TV or radio, a recent event or a "blast from the past," I'd love to share your photos here on some upcoming Friday in Picture of the Week.  Seriously, send 'em in -- I'm going to have a pretty full plate here over the next several weeks and I'd really like to not be digging around for photos at the last minute every week :-)