SYRACUSE -- A friendly wager between two local broadcasters resulted in some public humilation for NewsChannel 9 (WSYR-TV) reporter Keith Kobland. Kobland, who also provides morning news updates for Classic Hits Sunny 102 (WZUN), lost a bet against Sunny morning show co-host Melissa Midgley.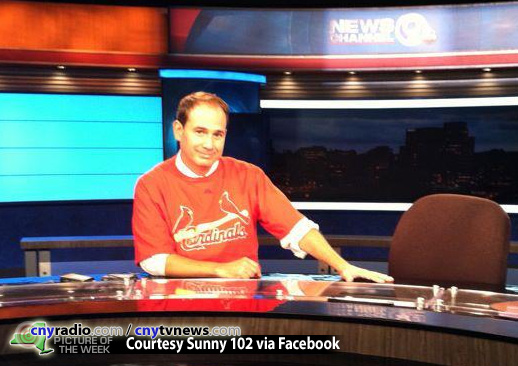 Kobland, a Philadelphia Phillies fan, was forced to wear a St. Louis Cardinals jersey after the Cards defeated the Phillies during the National League Division Series earlier this month.  Midgley, a Cards fan, was more than happy to lend Keith her #5 Albert Pujols shirt.
While Kobland obviously didn't wear the shirt on-air, he was a good enough sport to pose for the above photo in the NewsChannel 9 studio, along with a handful of others posted on Sunny 102's Facebook Page.
Classic Pictures of the Week on Facebook
Speaking of Facebook, we recently (more like finally) got around to restoring the original captions to all of our Pictures of the Week from 2003, on the CNYRadio.com Facebook Page.  (You'll even find a 2003 photo of Keith in there.)  The photos have been up for some time, but the captions haven't -- they're all buried in a "raw dump" of code from the original CNYRadio.com, so each caption has to be fished out, one by one, as spare time permits.  (We took care of 2002's photos earlier, and we'll eventually restore the captions from 2004 and 2005 as well.)
Got Pictures?
Every Friday, we take a look inside local radio and TV... and we're always very grateful for reader submissions.  Whether it's a recent event or a "blast from the past," send those photos to cnyradio@cnyradio.com.