SYRACUSE -- It's a double dose of holiday favorites on "The Wax Museum," a specialty show which airs Sunday nights on Love Radio WVOA 95.3, 98.1 and 103.9.  This weekend, legendary vocalist Sonny Farrar will join the guys live in-studio to perform some of his own Christmas favorites.  And there's more holiday favorites the following Sunday -- Christmas night.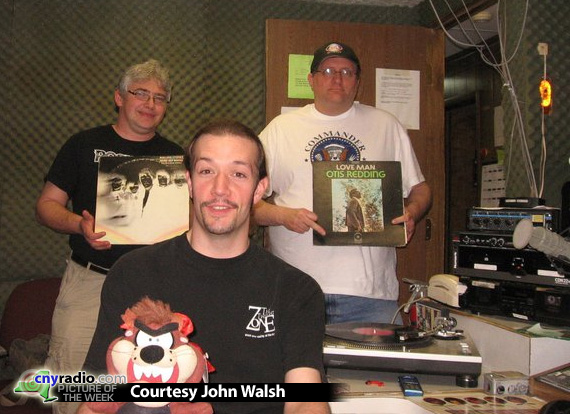 The crew from The Wax Museum posed for this photo recently.  Ronnie Dark is front and center.  Back row, from left: Mike "The Night Owl" Adams and John "The Commander" Walsh, holding some of the favorite vinyl in the studio.  The Wax Museum airs Sundays from 7-10pm, and if you're outside of WVOA's broadcast range, you can listen online at wvoaradio.com.  The show has been part of WVOA's Sunday night lineup since 2009.
Got Pictures?
Thanks again to John Walsh for sending in this shot -- we're always delighted to have reader submissions.  Whether you're involved with radio or TV, we're always interested in what's happening today at your station, or a nice "blast from the past."  Send those shots to cnyradio@cnyradio.com or upload via the Contact Form. There's a new Picture of the Week every Friday.