BUFFALO -- It's two franchises for the price of one today: this is a "Picture of the Week" and a "Where Are They Now" together in the same post.  This week's photo comes to us from Grant deBruin, formerly of Syracuse's WSYR-TV and Utica's WKTV.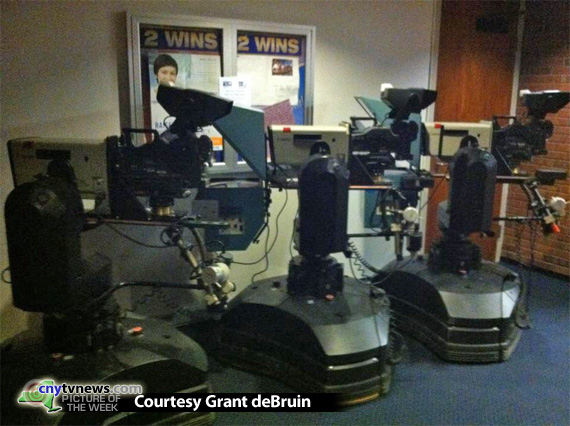 For almost a year now, Grant's been working at WGRZ, the NBC affiliate in Buffalo.  He's awake all night while most of us sleep, producing the station's Daybreak newscast.  About this photo, Grant explains, "when we went HD at WGRZ 2 [in October 2011], we got new studio cameras. Since then, our three old pedestal cameras have been sitting here in the hallway behind the studio, as I once said 'Where studio pedestal cameras go to die.'"
Just seven or ten years ago, surplus equipment like this might be quickly snapped up by a smaller-market sister station, or gladly accepted as a donation to some college's broadcasting program.  But with SD gear now obsolete, we imagine similar scenes may be playing out in other TV stations across the country, as they figure out what to do with their displaced SD equipment.
Shortly after graduating from Le Moyne College in 2005, deBruin joined NewsChannel 9 as a production staffer, running teleprompter and studio cameras, sometimes working in the control room or helping in the newsroom.  After nearly two years, deBruin moved to Utica to break into producing.  The experience he gained there eventually landed him the job he's got now.
Got Pictures?
Our thanks to Grant for this photo... and for his patience, as he originally sent this in early December, but other time-sensitive photos kept "cutting the line" every week.  That's actually a "good problem" for your editor to have -- we're grateful for the many photo submissions received in the past few weeks.  Has it been awhile since your station has been in the "Picture of the Week" spotlight?  Send your shots to cnyradio@cnyradio.com.  Whether it's a shot of something recent, or a nice "blast from the past," your submissions help us confidently sign-off each week, by saying there's a new Picture of the Week every Friday.