SYRACUSE -- Hey, I don't care what you think about Amy, that's no way to refer to her!  Just kidding, of course -- even if you're not a fan of Jersey Shore, chances are pretty good you know "The Situation" is the nickname of Mike Sorrentino, one of the stars of the hit MTV series.  He appeared at any event hosted by 93Q (WNTQ) at Turning Stone Resort and Casino's Lava night club.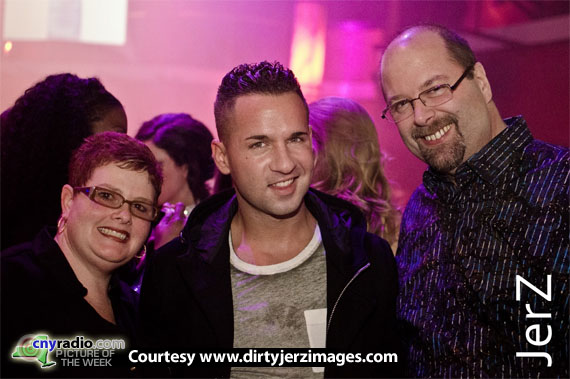 You already know Ted (far right) and The Situation (center). Ted explains the woman on the left is his sister-in-law, who is a huge Jersey Shore fan, although she was "a little afraid to touch him what with that mystery stain on his shirt."  Last Friday's appearance, sponsored by Hpnotiq liqueur, also served as a point for listeners to reserve rooms for "Amy's Slumber Party" (which has since sold out).
About meeting Sorrentino, Ted tells CNYRadio.com, "Sitch (yeah, I call him that) was just what you'd expect him to be ... a very nice guy."
Got Pictures?
Anytime there's a photoworthy happening at your local TV or radio station, or if you dig up a nice "blast from the past," send those shots in!  The address is cnyradio@cnyradio.com and there's a new Picture of the Week every Friday.