SYRACUSE -- It's a blast from the past in this latest installment of "Picture of the Week."  NewsChannel 9 (WSYR-TV) anchor and Syracuse broadcast historian Rod Wood recently sent over several photos from his extensive collection.  This week, we look back at a WTVH publicity photo from the late 1980s or early 90s.  Can you name everyone in this photo?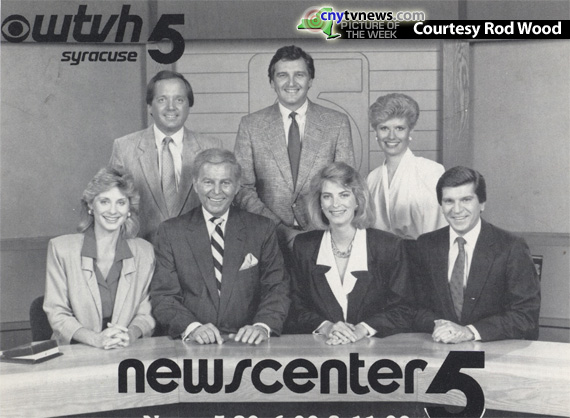 If you're trying to guess the names before you see them, stop scrolling here!  We'll leave a few blank lines before we get to the names...
...and here they are:
Front row, from left: anchors Liz Ayers, Ron Curtis, Maureen Green, Bob Kirk.
Back row: sportscaster John Eves, news director Graham Robertson, weathercaster Marti Skold.
After Google searching some names in an attempt to pinpoint the date of this photo, your editor believes it was taken sometime between 1989 and 1992.  If you know for sure, or have any info that could at least narrow it down further, feel free to share your knowledge by posting a comment below.
Got Pictures?
Thanks again to Rod Wood -- himself a former WTVH anchor before moving to channel 9 in 1976 -- for sharing this piece of Syracuse broadcast history.  We'll share another one, this time with Rod included, next Friday.  Meantime, the mailbox is open for your photos of broadcasting events past and present -- TV or radio.  Send those shots via email or upload through our Contact Form.  There's a new Picture of the Week every Friday!