SYRACUSE -- Following up to last week's "blast from the past" photo of the WTVH Newscenter 5 team, we have not one, but two more classic Syracuse TV news photos from the personal collection of longtime NewsChannel 9 anchor Rod Wood.  We didn't see Rod in last week's photo (taken at least 20 years after Rod moved from channel 5 to channel 9) but you'll see him in both of this week's photos.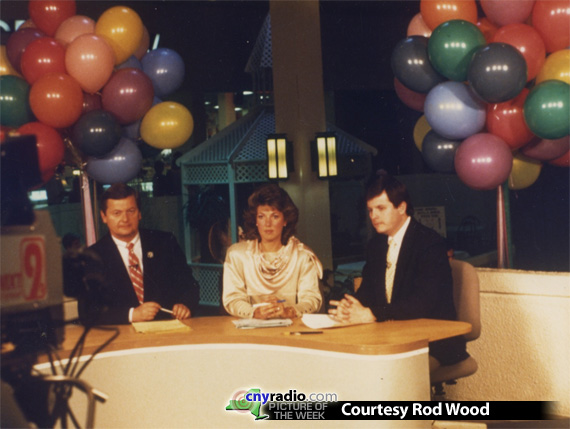 First up, this one from 1986, featuring Rod alongside Carrie Lazarus and Tim Fox.  But that's not the old channel 9 studio from the 1980s.  You might think it's the New York State Fair, but as you look at it more closely, you can tell... it isn't.  So where was this photo taken?  In the place where channel 9 used to call home before its present-day building opened: ShoppingTown Mall in DeWitt.  Rod tells CNYTVNews.com this photo was taken during a special live remote from the mall.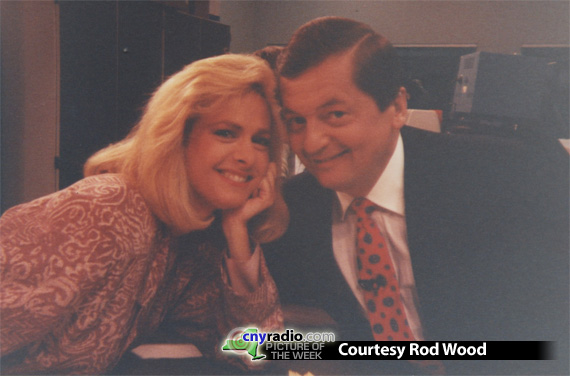 And a bonus second Picture of the Week -- a candid shot of Rod with former co-anchor Lisa Sweitzer in the then-WIXT newsroom.  Longtime Syracuse residents may recall Swietzer also anchored at channel 3 before jumping over to channel 9.
SyracuseNostalgia.com posted the following video aircheck of a newscast anchored by Wood and Sweitzer from 1990:
Got Pictures?
Our thanks again to Rod Wood for sharing some of his extensive photo collection.  We don't have anything planned for next week's installment yet... so if it's been awhile since your station has been featured here, we'd love to hear from you.  (Especially you folks in Ithaca and Utica -- after 9 weeks in a row of Syracuse market photos, both markets are overdue for a turn!)  Whether you've got shots of something recent or classic, as long as it's related to local radio or TV, send those shots to cnyradio@cnyradio.com or upload via the Contact Form.