UTICA-ROME -- If you're a fan of either country music or the Fox TV series "Glee," you're familiar with the Toby Keith song "Red Solo Cup."  So it's only appropriate for Bug Country 99.7 and 101.1's Dave Silvers and his wife Sandy to be holding a couple of the famous cups when they met the superstar vocalist earlier this month.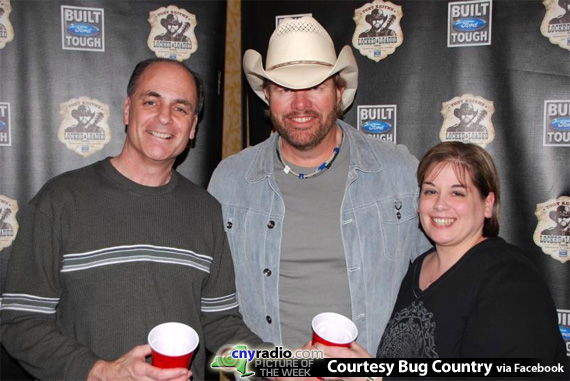 The meet-and-greet took place at Keith's concert at the Turning Stone Resort and Casino's Event Center on February 2.  There's a full album of photos from the concert on the Bug Country (WBUG and WBGK) Facebook Page... there's even a video of Keith performing a "fun" version of "Red Solo Cup" during the concert.
Silvers hosts the "All Request Cafe" weekdays from 11am to 1pm on the Bug Country simulcast.  The 99.7 signal (WBGK/Newport Village) covers the Utica-Rome metro, while 100.1 (WBUG/Fort Plain) extends the coverage mostly to the south and east, stretching to Cooperstown and the I-88 corridor.
Got Pictures?
Thanks to Dave Silvers for helping us break the 9-week streak of Pictures of the Week from the Syracuse market... nothing against the 'Cuse, but we like to make sure we include all of the markets we cover on CNYRadio.com and CNYTVNews.com.  We already have a reader-submitted photo lined up for next Friday (we'll be back to Syracuse to see some local and national sportscasters rubbing elbows) but there's nothing in the queue yet for March 2 or subsequent Fridays... so send those photos to cnyradio@cnyradio.com or upload via the Contact Form.  We're always happy to see your submissions, be they from current/recent events at your station, or notable "blasts from the past."