SYRACUSE -- With the Syracuse University mens basketball team starting the NCAA tournament yesterday as a #1 seed, it's no surprise that everyone's literally been seeing orange all over the place this week.  And that includes the wardrobes of local television newscasters.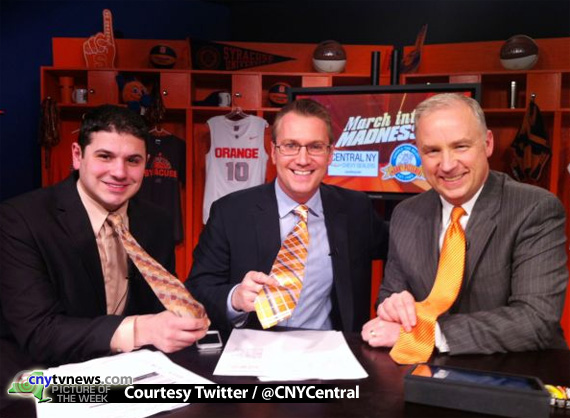 On Wednesday night, on the eve of the tournament, CNYCentral produced a half-hour special called "March into Madness."  From left, sports reporter Niko Tamurian, CBS5 anchor Michael Benny and NBC3/CW6 anchor Matt Mulcahy show off their orange ties in support of the team.  CNYCentral posted this photo on Twitter after the show concluded.
The trio was joined by Brent Axe from sports talk radio station The Score 1260 (WSKO)... we'll guess he was left out of this particular photo because he appeared sans tie, but he appears in another photo on CNYCentral's Facebook page.
Got Pictures?
Has it been awhile since we've featured your station in Picture of the Week?  All you have to do is send in a photo and we'll run it, simple as that!  Whether it's something recent, or a "blast from the past" involving local radio or television, send those shots to cnyradio@cnyradio.com or upload via the Contact Form.  There's a new Picture of the Week every Friday.