UTICA -- After six weeks in a row of Pictures of the Week from Syracuse, we didn't want our friends in the Mohawk Valley to think we'd forgotten them.  This week, a double-feature from two of Utica's newest television stations.
Of course, WUTR and WFXV are hardly "new" to the market -- signing-on in 1970 and 1986, respectively -- but they're still the newest full-power TV stations in the market when you consider WKTV has been around since 1949.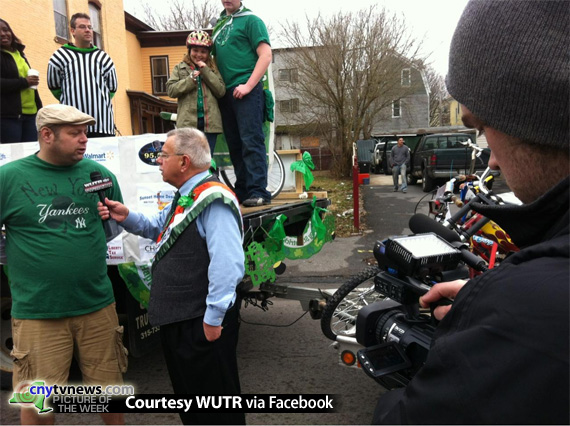 First up, Joe Kelly and Justin Parkinson shoot an interview for Kelly's "Around CNY" segments which air on Eyewitness News.  Although Kelly's not included among the list of reporter/anchor profiles on the WUTR/WFXV web site, he's been with WUTR for years, hosting "The Joe Kelly Show" and appearing on special live productions such as the Relay for Life and the Boilermaker Road Race.  In addition to his work for TV, Kelly is publisher and senior editor of the Boonville Herald.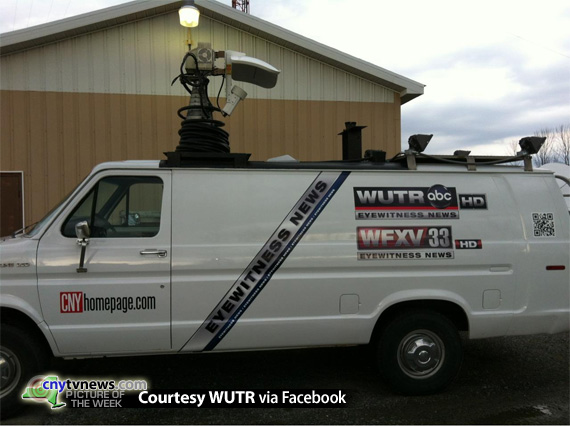 Next up, a look at the new artwork on the WUTR/WFXV live truck.  And the truck apparently has a nickname, as the person who posted this photo captioned it, "Hercules gets branded!"  The photo was posted online on Wednesday.  (Your editor probably isn't the only "broadcasting nerd" who would have also appreciated a look at the electronic toys inside the truck... perhaps we'll get a glimpse some other day.)
Got Pictures?
We found these shots on the WUTR Facebook page, but we're always grateful for the chance to take a break from "hunting" for pictures -- so if it's been awhile since we've featured your local radio or TV station, all you have to do is send us a photo of your own!  Whether it's a recent event or a "blast from the past," send those shots to cnyradio@cnyradio.com or upload via our handy Contact Form.  There's a new Picture of the Week every Friday.