We've got a 2-for-1 deal on this "Picture of the Week" installment.  It's our first "classic" POTW since CNYRadio.com was relaunched, and it's our first POTW to represent the Ithaca-Cortland market.  The very first management team at SUNY Cortland's WSUC has some folks who went on to make it big -- in radio and other career fields!
WSUC did an excellent job documenting its history on its website... we wish more college stations would do the same, because you never know who you'll find!  Recognize any of these folks?  The list of names (and "Where Are They Now?") appears below... so if you want to guess first, don't scroll down too far!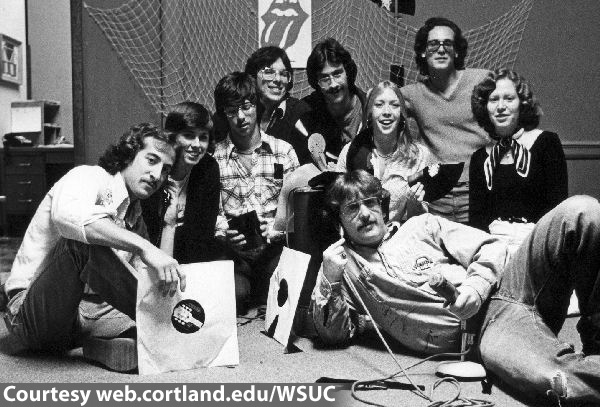 OK, here's the caption as listed on WSUC's site:
From left to right: Michael Flaster, Station Manager, two unknown Announcers, Rob Silber, Music Director, Dave Frisina, Announcer, Amy Dahlman, Announcer, Ron Palandrani, News Director, Candy Altman and, seated, Program Director, Corey Leibow.
The first name that we recognized was Dave Frisina.  Just yesterday, we told you Frisina is the cover story of this week's Syracuse New Times, marking his 30 years of working in Syracuse radio.
We also Googled the other names, out of curiosity.  Here's who else we found:
Michael Flaster is President of Traveling Mind Productions, a media production and consulting firm he established in 2000.
Amy Dahlman appears to be listed as a faculty member at SUNY Cortland.  Is it possible she stayed around after graduating, or is this a coincidence?
Candy Altman is the Vice President of News for Hearst Argyle Television, known for having some of the catchiest music and best graphics in the local news biz (in our opinion, anyway).
Corey Leibow is the President and CEO of a software company called Mercado.  Its claim to fame is developing the first search engine geared toward eCommerce.
There were plenty of Rob Silbers on Google, but none seemed to be a match.  Same goes for Ron Palandrani.  We could have made guesses, but didn't want to pick the wrong ones!
Feel free to post comments below if you can identify the "unknown announcers" or if you have better current info on Rob and Ron than we could find.
Related Link (Added 5/30/08):
WSUC Alumni Reunion Planned for July 2009
Send Us Your Pictures!
We're always on the lookout for rare photos from the past or a peek of what's happening today at your station.  Send your pictures to pictures <at> cnyradio <dot> com.