SYRACUSE -- Even if you're not a big fan of public TV, chances are good you've heard one way or another that WCNY-TV's big televised auction, "TelAuc" for short, has been going on the past few weekends.  And throughout the auctions, some local radio personalities have stopped in to help drum up support.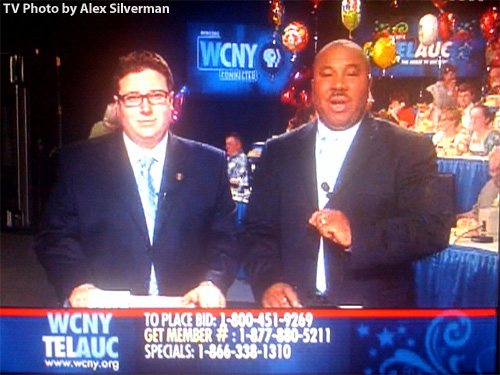 Here are two voices familiar to WSYR listeners: Jay Fishman and George Kilpatrick.  Co-worker Alex Silverman took this picture of the two appearing on TV last Sunday night.
Incidentally, that was supposed to be the final night of TelAuc, but the event has been extended by a few more nights.  The "real" final night is tonight, "from 6:00pm until signoff," according to an ad in this week's edition of the Syracuse New Times (oddly, WCNY's website does not reflect the added nights).