UTICA-ROME -- With all the changes in the staffing lineup at Kiss-FM -- over the past few months and this week alone -- it was practically a given, we'd have to take a look back at "the way things were" for our latest Picture of the Week.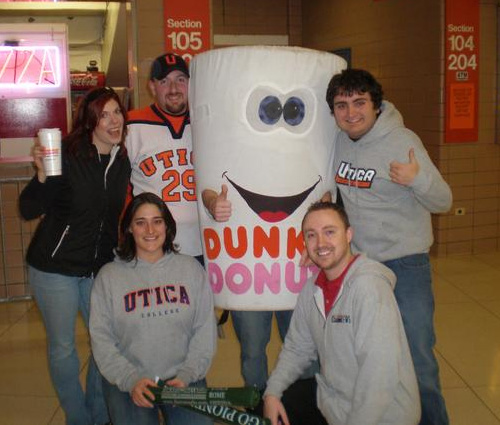 A quick Google Image search found this picture on myspace, including most members of the "Kiss Krew" at the Utica Memorial Auditorium.  Based on the dates of the comments, it looks like the picture was taken sometime last fall.
Standing, from left: Jesse Jordan, Gary "Big Poppa" Spears, a giant coffee cup, and "Intern Dave" Wheeler.  Kneeling at right, PD Shaun Andrews.  We're not sure who that is kneeling on the left.
If you've been checking the headlines here at CNYRadio.com over the past few days, you know Jordan and Wheeler were just recently dismissed from their duties.  Going back a little further, you may recall Spears was let go back in March -- his replacement, Eric Thomas was hired in May and fired in just a month.
Got Pictures?
We're always interested in a look at what's happening today at your station, or your classic shots of notables from the past.  There's a new Picture of the Week every Friday.  Send those shots to cnyradio@cnyradio.com or use our Contact Form.