SYRACUSE -- Regular fans of Gomez & Dave in the Morning on Syracuse's TK99/105 (WTKW/WTKV) and Utica's WOUR may recall recently hearing co-host Dave Coombs had thyroid surgery.  If you haven't seen, here's Dave in post-op recovery: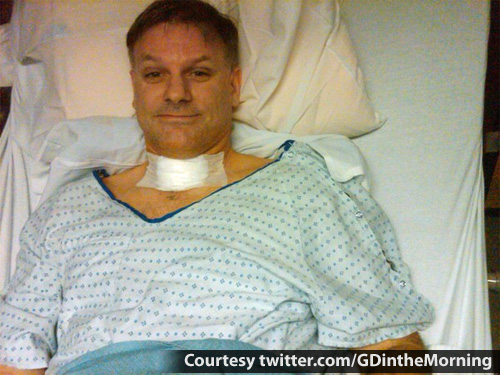 This shot was posted on the show's Twitter feed just a little over a week ago -- February 11th, to be exact.  No other details about the operation are posted on the feed or the TK99 website, but you can see many other pictures from the show on their Twitpic account.
Got Pictures?
We're always interested in a peek at what's happening today at your station, or a look back at notable people or events from the past.  Send those shots to cnyradio@cnyradio.com -- there's a new Picture of the Week every Friday.