ITHACA -- This week, we're heading more than half a century back in time, for another look into the extensive collection of longtime Ithaca broadcaster Rudy Paolangeli.  Although Rudy may be best known for his long-standing connections with WHCU, this photo goes back even further.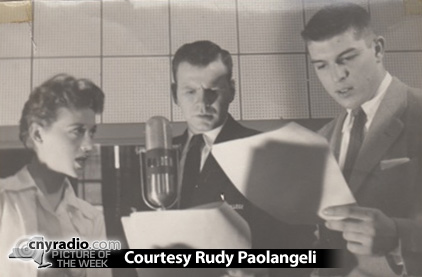 When Rudy sent in this photo, he was kind enough to include his own caption:
The "EMPIRE SCHOOL OF THE AIR" was heard on several New York State FM Radio Stations in the 1950's and featured Ithaca College Radio and Drama students. The weekly dramatic programs were produced in Studio A at the Radio Department "Shack" on West Court Street, the home of the the college radio station WITJ-FM (now WICB-FM).  Cast members left to right: Phyllis Cohen '54, Rudy Paolangeli '54 and Herb (Knight) Burkhalter '55.
Our thanks to Rudy Paolangeli for sending in this classic photo!
Got Pictures?
Rudy has already provided two more classic photos for use next time we have a "rainy day" around here ... it took awhile, but we've had a nice string of current/recent events to keep the feature going every week.  Hopefully we won't have to use up Rudy's other photos quickly -- ideally, we like to have a balance between radio and TV ... and between the three markets we serve, Syracuse, Utica-Rome and Ithaca/Cortland.
So, whether you've got a few snapshots from a recent event, or another "blast from the past" to share, send those shots to cnyradio@cnyradio.com or upload them via the Contact Form.  There's a new Picture of the Week every Friday.