WATERTOWN -- Plenty of big fundraisers in the North Country this fall... in the past month, Stephens Media Group's country powerhouse Froggy 97 (WFRY) has helped with a handful, including two just this week alone.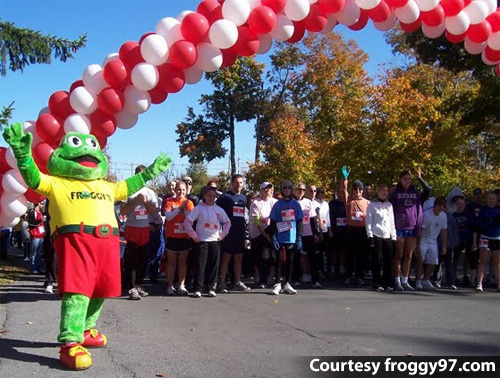 Here's mascot Mr. Froggy getting ready to start the 10th Annual "First Frost AIDS Walk/Run" to benefit the Watertown branch of AIDS Community Resources last weekend at the New York State Zoo.
The event raised over $36,000 for the organization.  You can see more pictures by clicking middayer Webb Foote's page on the Froggy 97 website.  Earlier this week, the station hosted a radiothon during which listeners contributes nearly $7,000 for the American Cancer Society.
Got Time?
Many of the Watertown station pages in the CNYRadio.com Station Wiki could use your help!  If you know how to edit Wikipedia pages, you'll be right at home... and if you don't, our online tutorials explain everything.  Visit the Wiki for the details.
Got Pictures?
We're always interested in a look at what's happening today at your station, or a glimpse back at something or someone notable from the past.  Send those pictures to cnyradio@cnyradio.com or upload via the Contact Form.  There's a new Picture of the Week every Friday.