SYRACUSE -- Mark your calendars for Saturday, September 25th: that's the date set for the 5th Annual Bill Leaf Memorial Kickball Tournament.  The event raises money for broadcasting scholarships while remembering the Newsradio 570 WSYR broadcaster who was killed by a drunk driver in 2006.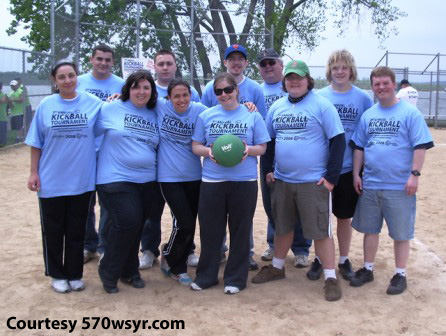 Bill's family and friends chose to start a kickball tournament because he once did a feature story about the recreational kickball leagues organized by Onondaga County Parks.
Word of the tourney date comes from Bill's older sister, Maria Leaf.  She says those who participated in last year's tournament should be receiving an email update soon, if not already.  She also tells CNYRadio.com a website is in the works to provide details for returners and newcomers alike.
Leaf says the price will stay the same as last year: $30 per person gets you into the tournament, along with food and a t-shirt (the shirts are offered in different colors to double as jerseys for players).
In previous years, the tournament required a minimum of 8 people per team, four of which had to be female.  After last year's tournament, Leaf said those rules might be relaxed to encourage more entries to the tournament, but there's no concrete news yet on that front for the 2010 event.