The 3rd annual Bill Leaf Kickball Tournament was held at Onondaga Lake Park on May 17th.  The event is a fundraiser for a scholarship named in memory of the WSYR News reporter who was killed by a drunk driver in 2006.  (Updated at 1:50pm with complete photo caption.)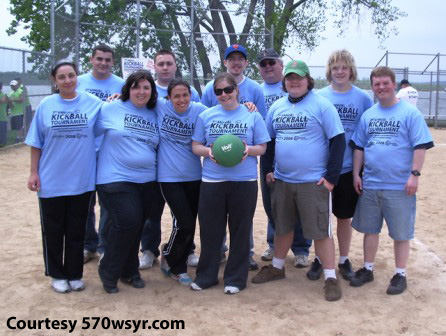 Updated 5/23/08 - Our thanks to Dave Bullard for identifying everyone in this photo from the 570 WSYR Website! 
Front row:  Julie Leaf, Bill's sister; Maria Leaf, Bill's sister, former WSYR anchor/reporter, currently at KDKA, Pittsburgh; Caroline Tucker, former WSYR reporter, currently reporting at WWNY-TV, Watertown; Michelle Clark, anchor/reporter, WSYR; Dan Bullard, Dave Bullard's son; Eric Reinhardt, former WSYR anchor/reporter, currently at the CNY Business Journal.
Back row:  Dan Eichler, friend of the Bullard sons, a last-minute fill-in; Bobby Hayes, friend of Michelle Clark; Dave Crider, producer at WSYR; Dave Bullard, former WSYR ND, currently co-owner of FultonDailyNews.com and OswegoDailyNews.com and web development manager at WWNY-TV Watertown; Scott Bullard, Dave's son.
Dave also offers some additional reflections from the day:
Caroline, Eric, I and my sons have played in all three tournaments.  This was the first year we could get Maria onto the field for the whole game.  She's always been too busy with media interviews to be able to play. This year, our first game was later, so most of her interviews were out of the way. 

Former WSYR reporter (and current Channel 9 production ace) Jim Beebe also hung with the team, as its semi-official photographer.  He has a great shot of me as I'm diving for (well, falling in the direction of) a ball.  I'm horizontal and six inches off the ground.  Six inches later, I'm seeing little stars in my eyes and have bruised a toe, rib and elbow.  I didn't come out, because you play with pain in this league.  

My son, Dan, got off the best line of the day when he heard we'd be playing the DestinyUSA team.  He said, "We should be able to beat them.  It'll take them a year and a half to run the bases." 

Naturally, we lost, 7-5.  Wrong about Destiny again…

Kudos go to Jim Lerch and the group he pulled together to make the event happen.  There were 32 teams this year, a record number.

We keep Bill in our hearts and minds.  This tournament helps us to keep him alive in our memories.
Thanks Dave, we appreciate the update!!
Don't Leave Us Hanging!
We hate "borrowing" pictures from station websites.  It's much easier (and looks better) if you send pictures directly to us, with the necessary information to go along with the photo.  We're always looking for pictures of what's happening today at your station... along with unique pictures from the past.  The address is pictures <at> cnyradio <dot> com.