ITHACA/CORTLAND - It's been another successful year for gathering a "Ton of Toys" with Q-Country 103.7 (WQNY).  The giant stocking located inside The Shops at Ithaca Mall was filled to capacity, at least three days before the toy drive officially ended yesterday.  Also: how other radio stations in CNY are helping the less-fortunate this holiday season.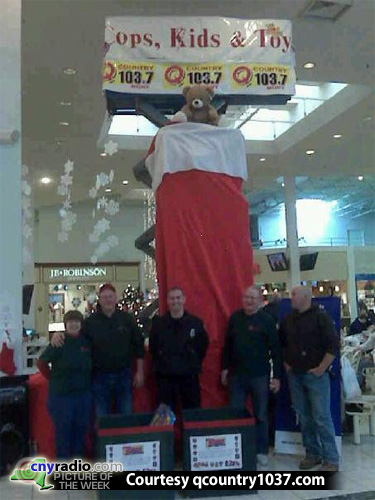 We got word of the success through a recent "Q-Mail" alert the station sent out to listeners.  This photo, from the station's website, is the final in a sequence of several photos showing the progress as the giant red stocking filled up, a Genie scissors lift gradually raising it up as more and more toys piled up.  If it looks familiar -- yep, you're right -- you saw a picture of the 2009 giant stocking right here, exactly 52 Fridays ago.
Elsewhere around CNY...
We asked on the CNYRadio.com Facebook page and on our Twitter feed for other stations to let us know what they're doing to help their communities for the holidays.  No responses (if you're not getting our Facebook updates, get over there and "like" us already!) so we did a quick roundup on our own:
Syracuse
Utica-Rome
Ithaca/Cortland
In addition to the Ton of Toys above, WQNY and its Cayuga Radio Group sister stations are inviting listeners to the "Community that Cares Blood Drive" for the American Red Cross on December 23.  It's taking place at Ramada Inn locations in Ithaca and Cortland.
Any others?
Again, we normally don't run stories about station promotions -- we'd need to hire as many writers as Santa has elves to keep up with everything.  But we do make an exception to promote how the power of local radio can benefit local communities during the holidays.  If you missed our pleas for information on Facebook and Twitter, email us what your station is doing and we'll add you to the story.
Got Pictures?
Our "Picture of the Week" feature runs every Friday.  And with a "newsroom" of one (with a full-time job on top of this website), your editor is always very grateful for your submissions.  Whether it's something recent from your station (celebrity in-studio visit, air talent with a celebrity at a concert, big station event, etc.) or something/someone notable from the past, send those shots to cnyradio@cnyradio.com.