UTICA/ROME -- Last week, we put out the call for stations to let us know what they're doing to help their communities during the holiday season.  And last night on Facebook, we put out an urgent call for Picture of the Week submissions -- it's been such a busy news week, we never had time to find a picture.  One CNYRadio.com reader came through on both counts.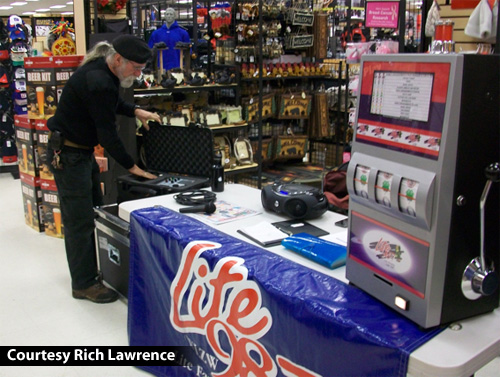 Our thanks to Lite 98.7 (WLZW) weekender Rich Lawrence, who sent this photo taken during the setup for a live broadcast to promote a coat drive held at the Herb Philipson's store in Rome.  Rich was the first (and only) person to respond to our plea on Facebook.
Can you tell we're also using the opportunity to plug the CNYRadio.com page on Facebook?  We haven't made too big a deal about the Facebook page, but "liking" us will put CNYRadio.com headlines in your news feed, along with "extra" updates from time to time, things that might not quite be big enough for a story, but worthy of a "status update."  (Same goes for our Twitter feed.)
Got Pictures?
We're always looking for the latest on what's happening at your station -- send those shots to cnyradio@cnyradio.com.  There's usually a new Picture of the Week every Friday, but we haven't decided if we'll do Pictures of the Week for 12/24 and 12/31, or take the holidays off.
Disclaimer: CNYRadio.com editor Peter Naughton is one of Rich's co-workers as a part-time weekend DJ at WLZW.  However, this had no influence on our decision-making -- Rich really was the first and only person to respond to our plea for pictures.