SYRACUSE -- It's called "Walk-Up Radio" because members of the live audience can walk up to an open mic anytime they want.  Today is exactly two years since Walk-Up Radio debuted, so we thought it fitting to honor the crew with a Picture of the Week, and a plug for the big 2nd Anniversary Show they've got planned for this coming Wednesday.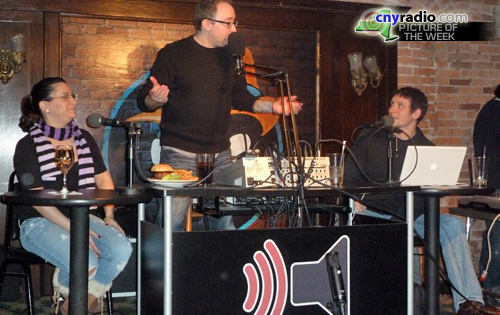 In this photo shot by your editor during this past Wednesday night's show, co-hosts Josh Grosvent (center) and Kevin Keefe discuss "The Big Cheese," a new burger being added to the menu at Wise Guys Comedy Club.  Looking on is Christina Hodges, filling in for Paulie Scibilia, who was out covering the SU/Georgetown game.
When Walk-Up Radio started in 2009, the live interactive podcast/netcast took place at Clark's Ale House.  Less than seven months later, it moved a few blocks to its current home, Wise Guys Comedy Club.  The show takes place every Wednesday night at 8:00.  Waitresses serve pub fare and beverages during the show, so you can grab a drink (and perhaps a late dinner or snack) without missing a moment of the action.
During this past Wednesday night's show, Grosvent says they've got plenty of special guests lined up, including some of the most popular local musical acts that have performed previously on Walk-Up.  There will also be custom-made Walk-Up Radio hoodies for sale.
If you can't make it to Wise Guys, you can still watch or listen -- the interactive podcast/netcast is streamed live at walkupradio.com and a recording of each show is posted to the website shortly afterwards.
Got Pictures?
We're always interested in a peek inside the latest from your station -- and that now includes radio and TV.  We're also interested in those great "blast from the past" shots.  Send your pictures to cnyradio@cnyradio.com or upload via the Contact Page.  There's a new Picture of the Week every Friday.