SYRACUSE -- There's a brand new radio show in Syracuse... hosted by current and former on-air personalities... but you won't find it on AM radio, FM radio, or even satellite radio.  The only way to hear the unique, new format of "Walk-Up Radio" is to visit their website -- or catch a live taping of the show.
Walk Up Radio just launched its first episode last week, and the crew has an agreement to continue taping new episodes before "a live drunken audience" at Clark's Ale House in Syracuse (Google Map), every Thursday at 6pm.
The hosts are Kevin Keefe, Josh Grosvent and Hunter Scott.  Keefe used to work in Syracuse radio years ago, and the other two co-hosts still do; but they stress Walk-Up Radio is not affiliated with, connected to, or endorsed by their day jobs.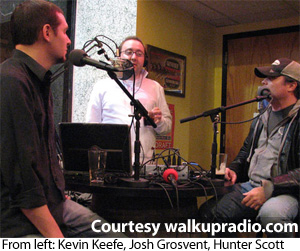 Keefe explains, "we wanted to do a unique type of show but we knew how difficult it would be to do it on terrestrial radio."  Listening to the podcast at walkupradio.com, we quickly understood why -- the 48-minute debut contains some adult conversation and a few mentions of those "seven dirty words" you're not supposed to use on the radio.
If you appreciate adult humor, you'll love it -- but you definitely don't want to bring the kids.  If the show were a movie, it might be on the border between PG-13 and R.  We thought the show was entertaining and funny, but we can understand how some listeners might be offended or grossed out.
What makes the show unique, is the fact that audience members are welcome to walk up anytime (hence, the title) and join into the conversation.  Keefe tells CNYRadio.com, "it's really your show, we set things in motion and then if you have an opinion or want to chime in on a topic there's a mic waiting for you. We want it to be as interactive as possible."  (We presume, another reason the show could be difficult to broadcast -- you never know who's going to show up and what they're going to say.)
Keefe says the trio came up with the idea over lunch: "we were just talking, making fun of something, and we thought, this should be a morning show!"  Check it out for yourself -- again, the address is walkupradio.com and the 2nd show will be taped tomorrow night at 6pm at Clark's Ale House at 122 West Jefferson Street in Syracuse.