SYRACUSE -- Why should you have to wait all year for Halloween to dress up like a zombie?  Citadel rocker 95X (WAQX) hosted its annual "Zombie Prom" this past weekend in Armory Square.  Listeners were invited to dress up like a zombie -- and members of the on-air staff unquestionably led by example.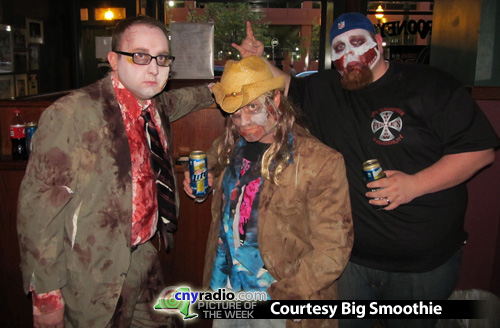 From left, 95X morning co-hosts Josh Grosvent and Hunter Scott, joined by afternoon host Big Smoothie, all posing in their costumes before the prom got underway on Saturday night.  Impressive detail on the makeup and costumes -- since our usual POTW size doesn't quite do justice, click on the photo for a larger, more-detailed version of the photo.
Got Pictures?
Our thanks to Big Smoothie for submitting this photo!  If it's been awhile since your station has been featured here, send us something!  Whether it's a current/recent happening from your station, or a look back at a blast from the past, send those shots to cnyradio@cnyradio.com or you can upload a photo through our Contact Form.  There's a new Picture of the Week every Friday.