SYRACUSE -- Registration is now underway for the 6th Annual Kickball Tournament to benefit the Bill Leaf and Samantha Reynolds Memorial Scholarship Funds.  New this year, organizers hope a lower registration fee and some rule changes will entice more teams to sign up.  The tournament is set for September 17, but the deadline to register is Labor Day, September 5.
The tournament started off its first few years in memory of Bill Leaf, a WSYR news reporter and WTVH sports anchor who was killed by a wrong-way drunk driver on Interstate 81 in 2006.  The idea came was inspired by an award-winning story Bill produced for WSYR, about the kickball leagues at Onondaga Lake Park.  Since 2008, the event has also benefited a scholarship at Liverpool High School, in memory of Samantha Reynolds.  She was killed were hit by a wrong-way drunk driver on I-95 in South Carolina.  She and her family were on their way to Disney World for vacation.
What's New in 2011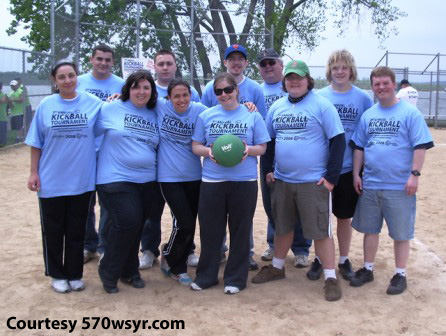 According to Bill Leaf's sister Maria (a former WSYR news anchor/reporter herself), the following changes are coming for 2011:
The registration fee will be lowered to $25 (it used to be $30).
Some teams who lose their first-round game will get a second chance to stay in the tournament, rather than being "one and done."  (After all, the tournament's a lot more fun when you get to play more than one game.)
The band "Decree" will provide live music during the tournament.
Door prizes will be offered, including:

Desktop HD Radio
ProFlowers $50 gift card
2 four-packs of tickets to the Baseball Hall of Fame
Jim Reith Show hoodie, size large
Ziebart remote car starter package
Pair of tickets for an Uncle Sam Boat Tours lunch cruise
Two CD prize packs (six CDs per pack)
What's Staying the Same
The tournament will take place at Onondaga Lake Park in Liverpool, from 10am to approximately 4pm.
Carrabba's and Dunkin Donuts will provide food for all participants.  Enjoy some coffee and donuts in the morning as the tournament begins, then some fine Italian fare as the afternoon rolls in.
Teams must have at least 8 players, of which four must be female.  While there is a limit to how many players may be on the field at any given time, there's no limit to the total number of players on a team.  Subbing is encouraged!
All players must be at least 16 years of age.
Because this is a charity event, there are no refunds.
Register Your Own Team...
CLICK HERE to download and print this year's registration form.  All money, names and other information must be submitted by September 5th.
...or Join Ours!
After a few years of not being able to make it to the tournament, your editor would love to return!  We've already got a few people willing to form a team, but we need several more.  If you're interested in joining "Team CNYRadio.com" (or whatever else we decide to call ourselves), please email cnyradio@cnyradio.com.  At this point, no obligation or commitment is expected -- we're just wondering who's interested for now, and once we have enough people for a team, we'll email you back with more concrete plans.  The deadline will be here before you know it, so even if you're "on the fence," let us know ASAP.