UTICA/ROME -- As reported here earlier this week, staffers at ABC affiliate WUTR and Fox affiliate WFXV are feverishly preparing for the September 12 launch of "Eyewitness News."  Aside from learning how to use all their spiffy new HD gear, reporters and anchors have been logging plenty of miles around the area, getting themselves familiar with local landmarks, newsmakers... and even some other media outlets.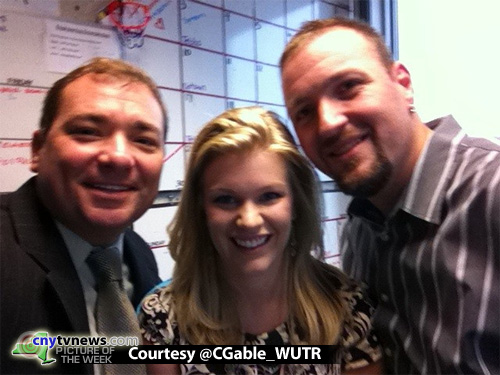 This is one of a few photos co-anchor Caroline Gable posted to Twitter earlier this week, after an on-air appearance with Gary "Big Poppa" Spears on Kiss-FM (WSKS/WSKU).  From left, news director and co-anchor Joe Parker, Gable, and Spears.
Most of the new WUTR/WFXV newsroom staffers have been posting "behind the scenes" updates and photos to Facebook and Twitter, getting viewers psyched up for the debut, less than four weeks away.  Earlier this week, we spotted some tweets about camera training, and at last check, we saw some updates which indicate staff just completed two days of training on Avid's iNews Newsroom Computer System.
Earlier Coverage
Got Pictures?
We're always interested in a look at what's happening today at your station, or a notable blast from the past.  Been awhile since your station has been featured here?  All you have to do is email your photos to cnyradio@cnyradio.com or upload them via the Contact Form.  There's a new Picture of the Week every Friday, so we're always looking for more!