NEW YORK CITY -- The countdown is on to Regis Philbin's final broadcast, capping off nearly 30 years of co-hosting the show currently known as Live! With Regis and Kelly.  During yesterday's show, Philbin, who recently turned 80, announced his last day on the syndicated morning gabfest will be Friday, November 18.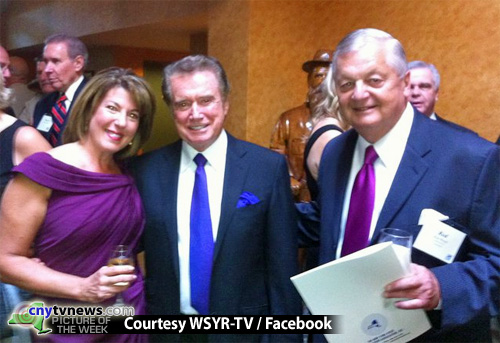 In Syracuse, Live! has been carried by CBS-5 (WTVH) since last year, after taking the show away from its longtime home on ABC affiliate NewsChannel 9 (WSYR-TV).  In Utica, Live! is carried by ABC affiliate WUTR-20... but Utica's lack of a CBS affiliate means cable subscribers can also watch the show on WTVH if they so desire.
According to AOL TV, producers are working on plenty of special "Regis Farewell Celebration Season" segments which will air over the next ten weeks.  Producers are also planning to bring back several of Philbin's favorite guests.  The show confirms Celine Dion, Matt Damon, Seth Meyers and Tom Selleck are just some of the stars who are booked to appear one more time before "Reege" calls it a career.
Philbin has co-hosted Live! since its 1983 debut as The Morning Show, when it was only seen in the New York City market on WABC-TV.  Five years later, the show launched into national syndication under the title Live! with Regis and Kathie Lee.  When Kathie Lee Gifford left the show in 2000, Live! with Regis featured Philbin alongside a variety of substitute co-hosts until Kelly Ripa was named Gifford's permanent replacement in 2001.  The show continues to originate from WABC-TV's Manhattan studios.