What a slooooow week this was!  We only had one new story since last week's POTW.  It was such a slow week, we had to go back in time for the latest POTW.  We found this one at the Utica AM Radio Website, and the owners could use some help identifying one of these guys.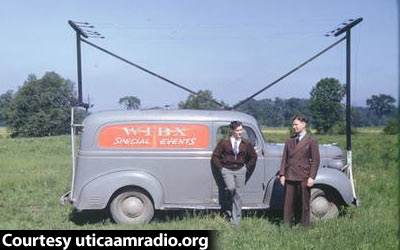 As captioned by the Utica AM Radio Website, this is "one of the first WIBX remote broadcast vehicles."  They don't have a date posted for this picture, but they know the guy standing at right is the late Freddy Hoffman.  They're not sure who's standing closer to the middle.  If you might happen to know, visit the Utica AM Radio Website's Contact page to send them an e-mail.
Even if you don't know who it is, check out the site anyway.  They've got plenty of other pictures from the heyday of AM radio in Utica.  There's also a nice write-up on the history of Utica AM radio, and a video page with some film footage from the 1940s.
Send Us Your Pictures!
We're always interested in a look at what's happening today at your station, or a glimpse back at something interesting from the past.  Send those shots to pictures (at) cnyradio.com.  A new Picture of the Week debuts every Friday.