SYRACUSE -- 93Q and Hot 107.9 are catching the attention of the local news media, for openly asking listeners if they should consider pulling songs by Chris Brown off their playlists. The 19-year-old star hasn't been charged, but is being investigated for allegedly assaulting girlfriend and fellow star Rihanna.

Citadel Operations Manager Tom Mitchell was interviewed about the poll today by Syracuse ABC affiliate NewsChannel 9 (WSYR-TV).  He tells the station it's tough to decide where you "draw the line," considering another artist, TI, is facing federal gun charges, but there's not as much public concern in his case.
Here's the complete text of the 93Q web poll, which appears on the station homepage (towards the right side of the screen):
Chris Brown is alleged to have choked and threatened a person identified by various outlets as Rihanna. At this time prosecutors are not pressing charges but are asking officers to gather more evidence.

Should 93Q ban all of Chris Brown's older hit songs (such as "Run It")?

Yes, all of his music should be banned from the 93Q playlist forever.
Yes, ban his music, at least until this is fully investigated.
No, not at this time. Innocent until proven guilty.
No; if you ban every pop/rock/R&B artist accused of breaking the law, there wouldn't be much music left to listen to.
Mitchell tells the TV station the poll will remain online for a few more days. As of 4:00pm Thursday, it appeared to be a virtual dead heat between the second option (35%) and the fourth option (36%).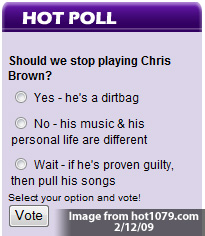 Across town, Clear Channel competitor Hot 107.9 (WWHT) also has a similar poll. PD Butch Charles tells the TV station he's only gauging listener opinion at this point; and he likely won't make any final decisions until the police complete their investigation.
When we checked that poll, Hot's listeners were in support of keeping Brown's tunes on the air, with 48% voting for "No - his music & his personal life are different."
The buzz has even inspired the TV station to post its own poll next to the story on its website.
A quick scan of CHR stations in Utica, Watertown and Ithaca shows the other markets don't seem to be too concerned about the situation -- at least for now.