UTICA-ROME -- After a couple weeks off due a combination of illness, lack of submissions and being overwhelmingly busy... the Picture of the Week is back!  And this week, we have Kenny the Promo Guy from Kiss-FM to thank for sending in this blast from the past from his personal collection.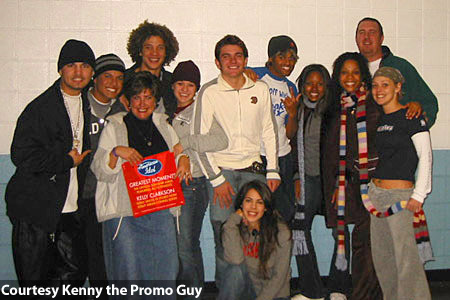 Kenny says this picture was taken when the American Idol (Season 1) finalists' tour made a stop at the Pepsi Arena in Albany on October 29, 2002.  Kenny's the tall guy way over on the right... and former Kiss-FM morning co-host Linda Rae is the 3rd person from the left.  Standing behind her is runner-up Justin Guarini, and to the right (or Linda's left), is winner Kelly Clarkson (wearing a hat).
Got Pictures?
Thanks again to Kenny for sending this picture in!  He used our Contact Page to upload it, and you're welcome to do the same.  We're always interested in what's going on at your station today, or a look back at something memorable from the past.  There's a new Picture of the Week every Friday.