ITHACA -- At a time of the year when most student-run college stations are running on a skeleton crew and/or automation, students at Ithaca College's WICB are working as hard as ever, helping to raise record-breaking amounts of money for local charity.
Students camped out at this weekend's Grassroots Festival of Music and Dance, selling raffle tickets for a guitar and amp signed by more than 40 of the artists who performed during the festival.  The guitar, valued at $1,000, was donated by a local music store.  Proceeds from the tickets totaled over $1,500, benefitting the Loaves and Fishes food bank.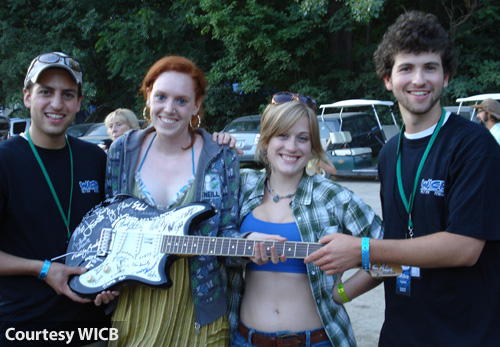 From left, WICB Student Station Manager Evan Schapiro, two unnamed fans and PD Michael Sokol pose with the guitar.  The station says the $1,500 raised breaks previous years' records, as well as this year's anticipated goal.
"Festival goers were extremely generous this year and helped us surpass our goals," said WICB Station Manager Evan Schapiro. "The success of this fundraiser really goes to show the strength and support of the local community and their strong dedication to Loaves and Fishes even in these tough economic times."
WICB staff worked at all four days of the festival selling raffle tickets, talking to station fans, and catching up with performers who were more than willing to sign the guitar. Some of the forty signatures on the guitar included members of local favorites such as Jimkata, John Brown's Body, Thousands of One, New Neighbors, Sim Redmond as well as headliners Sharon Jones and Bela Fleck.
"Everybody was willing to donate because it was a win-win situation," said Nate Grant, a Modern Rock DJ on WICB, "Even if you didn't win the guitar package you were still making a donation to a great cause. Either way it was money well spent."
Got News?
If it involves radio stations or personalities in Syracuse, Utica, Watertown or Ithaca, we're interested!  Send your press releases to cnyradio@cnyradio.com.  Or use the Contact Form if you'd prefer to send an anonymous news tip.