SYRACUSE -- Geographically, they may be closer to Villanova, Pennsylvania, but spiritually, Big D and Bubba were rooting with the 34,616 fans in the Carrier Dome for the Orange to BEAT NOVA last Saturday night.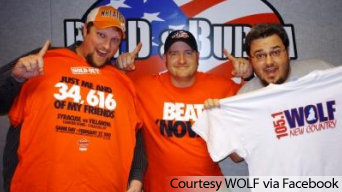 This photo was recently posted on the New Country WOLF 105.1 Facebook page.  The station sent some "Beat Nova" t-shirts to the syndicated morning hosts, based in Nashville, and they posed for this photo.  You'll notice they also included a WOLF logo t-shirt in the package.
And as we all know by now, all the support from Orange fans near and far was worth it -- the SU mens basketball team won the game, 95-77, helping them attain #1-ranking in the major national polls.
Big D and Bubba are heard weekdays from 6-10am on WOLF(-FM) 105.1 in Syracuse and WWLF-FM 96.7 in Oswego.  A translator serves downtown Syracuse at 98.3 FM.
Got Pictures?
There's a new Picture of the Week every Friday... and it's a hungry beast to feed!  We're always looking for pictures of recent happenings from your station, or a look back at something/someone notable from the past.  Looking all over the place for new pictures every week is a challenge, so we're always grateful when someone submits a picture, allowing us to take a breather.  Send those shots to cnyradio@cnyradio.com or upload them via the Contact Form.