UTICA-ROME -- Remember WKAL?  Way back before FM radio took hold in the Mohawk Valley, this 1kW station at 1450AM was among the limited options for radio audiences, especially back in the 40s -- when WIBX was the only other station in the market.  Today, we hear from a former WKAL personality who recently found our site and decided to share an old publicity poster.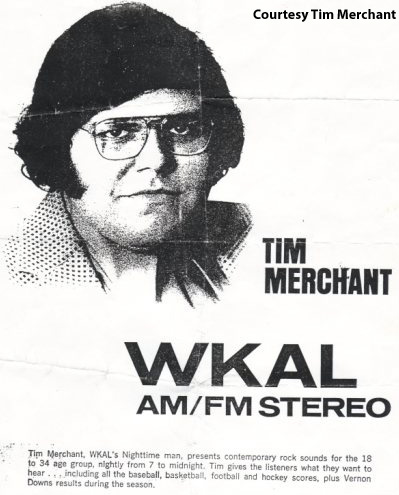 Tim Merchant didn't say exactly when this poster was published, but here's the caption in case you can't make out the small text on your monitor:
Tim Merchant, WKAL's Nighttime man, presents contemporary rock sounds for the 18 to 34 age group, nightly from 7 to midnight. Tim gives the listeners waht they want to hear . . . including all the baseball, basketball, football and hockey scores, plus Vernon Downs results during the season.
Tim Merchant says he lived in Rome for 35 years.  He often returns to the area on visits for family, and enjoys being able to use CNYRadio.com to keep track of what's happening on the radio scene "back home."  Tim says he was prompted to email this picture after seeing another recent POTW:
I had great memories get refreshed with the picture and story of Johnny Keegan and the overnight radio shifts. This goes back to the mid seventies when many, if not most, stations signed off each night. I would do my air shift until 11pm, then a news ,weather, and sports recap followed by the national anthem and POWER OFF.

The only night we would stay on overnight was New Years Eve with special programming and phone calls.
These days, Tim says he's living in Tulsa, Oklahoma, where he does some board op work at Newstalk 740 KRMG.
According to Utica AM Radio, WKAL was the second AM station in the market, after WIBX.  The station was owned by the Kallet family, the same folks who owned the Kallet Theatre in Oneida, the Capitol Theatre in Rome, and a few years later, they'd start up WKTV in Utica (Kallet is the "K" in KTV).
While the latter three properties still operate under their original names today, WKAL has since gone through a flurry of call letter changes.  Today, 1450AM in Rome identifies itself as WYFY.  Those call letters have been in place since 1999, when the station was purchased by Bible Broadcasting Network.
Got Pictures?
We're always interested in a look at what's going on today at your station, or a look back at notable people, things or events from the past.  Send those shots to cnyradio@cnyradio.com or upload via the Contact Form.  There's a new Picture of the Week every Friday.