ITHACA -- Saga news/talker WHCU is back on the FM dial.  Well, it's already on the FM dial if you have an HD Radio receiver, but now you can listen with a regular FM radio.  The station's primary coverage on 870AM is now supplemented by the return of translator W240CB at 95.9FM.
Thanks to an anonymous CNYRadio.com reader alerted us to the change -- as well as a slightly altered station logo, which now includes the FM frequency.  By comparison, the old logo just had the number "870" (AM being assumed) on the left side.  WHCU's website says "Now you can listen to WHCU day and night without the status of interference you might get on the AM band."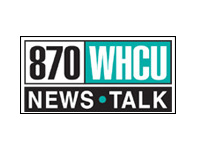 Although W240CB is technically licensed as a translator for sister station Q-Country 103.7 (WQNY), the move is permitted because WHCU is carried on WQNY-HD3.  The FCC has previously established a precedent allowing FM translators to carry HD subchannels from other stations: Saga already does so with CHR station Hits 103.3 (W277BS / WYXL-HD2) and AAA-formatted 98.7 The Vine (W254BF / WYXL-HD3).
Our reader points out some additional history that's been posted by helpful readers who've volunteered their time to help the CNYRadio.com Station Wiki get closer to completion: a few years back, WHCU could be heard on 95.5FM, a former translator of WYXL.  But Saga had to give up that signal when the FCC granted ROI Broadcasting permission to launch a full-power station (WFIZ) on the same frequency.  In exchange, Saga received the 95.9 translator, with FCC records showing a License to Cover approved on August 11, 2010.
Got News?
Thanks to our reader who submitted an anonymous tip by clicking "Contact" in the menu at the top of the page.  We appreciate it!  And anytime you have some news to share, we hope you'll do the same, or if you prefer traditional email, the address is cnyradio@cnyradio.com.  Even if you do provide your name, all requests for anonymity are honored.