UTICA/ROME -- Yes, too much time was invested in the title for our latest Picture of the Week.  She's known for spinning country tunes... but earlier this week, Big Frog 104 (WFRG) morning co-host Polly Wogg got a lesson in spinning basketballs, from Buckets Blakes of the Harlem Globetrotters.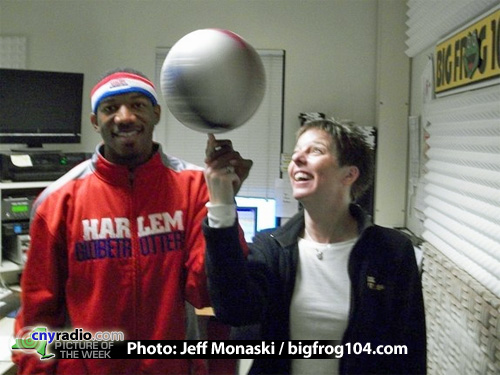 Blakes stopped by the Big Frog 104 studios earlier this week to talk about his skills and his career with the Globetrotters, promoting the legendary team's upcoming appearance at the Utica Memorial Auditorium.  Polly Wogg wrote on the Big Frog 104 website, "he was so good, I was afraid he'd take my job.  If he gets to old to play basketball, he can always fall back on a career in radio."
There's more than 20 other photos to go with the one we featured here -- you can see them all on the Big Frog 104 website.
Got Pictures?
We're always interested in what's happening today at your station or a look back at a good "blast from the past."  Send those photos to cnyradio@cnyradio.com or upload via the Contact Form.  There's a new Picture of the Week every Friday.  And thanks to the CNYRadio.com reader who nominated this photo, saving your editor from having to search all over the internet to find something at the last minute!