PITTSBURGH -- Our latest Picture of the Week is not only related to local TV, but it also serves as our latest "where are they now" report.  During a visit to Pittsburgh this past weekend, your editor unexpectedly happened to spot a former Syracuse TV sports director -- in the middle of pre-game Pittsburgh Pirates coverage at PNC Park.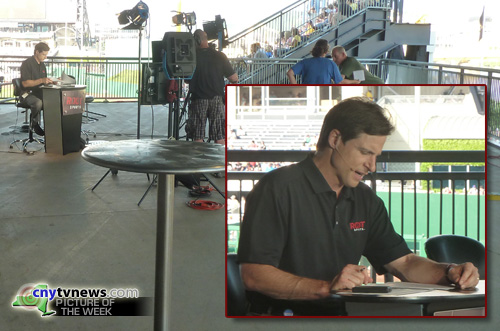 That's none other than Rob King, who worked for Syracuse CBS affiliate WTVH from 1995 to 2000.  The Steel City is where King's been working ever since leaving Syracuse.  He works for Root Sports, which is the new name (as of this past April) for what used to be FSN Pittsburgh.  King was seated on a small, portable set in an open (but roped-off) area of the stadium behind right field for pre-game coverage of Saturday's game against the Mets.  During the game, King appeared on the stadium's giant video screen to provide quick highlights from other games in the league.
Even if you're not a big sports fan, you might remember King's ongoing feature series, "I Challenge Rob," in which viewers invited the sports director to come challenge them to their own sport or specialized skill.  (We hoped there might be a clip on YouTube, but no dice -- instead, you might enjoy the PDF version of a 1999 newsletter from the Onondaga Cycling Club, where the cover story details how Rob did a cycling time trial for one of his challenges.)
Much to your editor's dismay, the Mets lost 3-2, but a post-game performance by Huey Lewis and the News -- combined with a spectacular fireworks show over the stadium -- helped take some of the sting out of that loss.
Got Pictures?
We're always interested in a look at what's happening today at your radio or TV station -- or a look back at a notable "blast from the past."  Send your shots to cnyradio@cnyradio.com or upload via the Contact Form.  There's a new Picture of the Week every Friday... it's a hungry beast to feed, so your submissions are always greatly appreciated.