SYRACUSE -- Summertime in Central New York means there's no shortage of opportunities to check out some of the best classic cars in the area.  Hundreds showed up for the latest "Cruise Night" with Oldies 1050 (WSEN).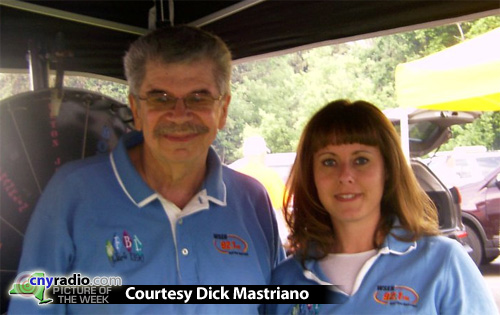 This photo comes to us from the Oldies 1050 "Cruise Night" in June at Sacred Heart Church in Cicero.   Oldies 1050 morning man Dick Mastriano sent along this photo of himself with Promotions Director Kristine Gladle.  Dick tells us more than 300 custom cars came out to the event, sponsored by the American Muscle Car Club.  Owners and spectators alike enjoyed live music by Ruby Shooz.
Got Pictures?
Thanks again to Dick Mastriano for sending in this photo.  Your photo could be next!  Whether it's something recent from your station, or a memorable blast from the past, send those shots to cnyradio@cnyradio.com or upload them via the Contact Form.