Updated 12:30pm with two more photos -- SYRACUSE -- The biggest summertime tradition for Central New York is a summertime tradition here at CNYRadio.com / CNYTVNews.com.  We present to you, our annual roundup of photos of local radio and television stations at The Great New York State Fair!  Inside: more than a dozen photos!
We'll lead things off this year with New Country WOLF 105.1, where PD/afternoon host Skip Clark was patient enough to pose twice for your editor.  On the first trip, the shot was obscured by sun glare, which I didn't catch immediately.  Stopped back again a few days later.  Next to Skip is Joey Walker.  Both hold down shifts at WOLF as well as MOViN 100.3/96.5 (WMVN).  You'll find WOLF along the eastern approach towards the Grandstand, just a bit past Tully's and the International Building.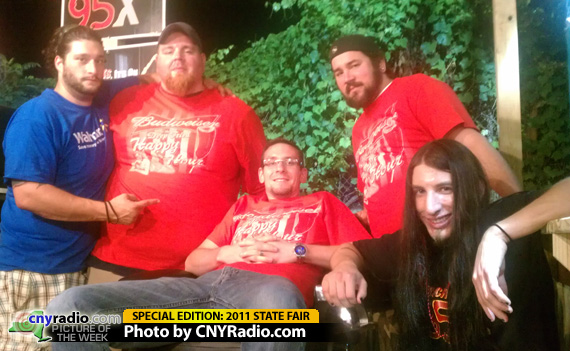 This photo added 12:30pm -- Next, our sincerest apologies to the guys from Citadel rocker 95X (WAQX).  This was actually one of the first photos we got, but it got lost in the shuffle when putting the page together.  Seated is Kevin Keefe, and Big Smoothie's to his right, surrounded by members of the 95X crew.  Keefe's sitting in a barber chair, as the station is offering free haircuts to anyone sporting a mullet.  You can check the "95X Mullet Count" board as you walk along the infield fence to/from the midway.  Our apologies again to these guys for our earlier omission.
(We have one more "late addition" further down the page.)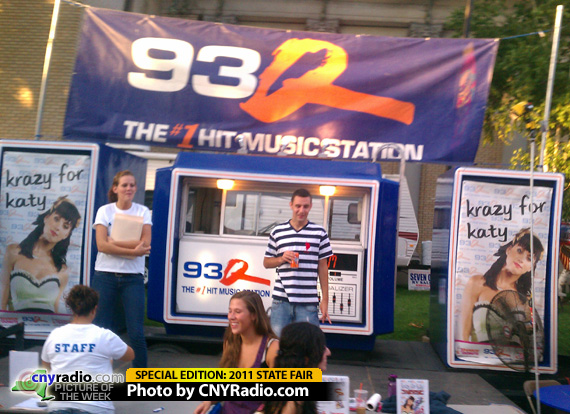 Next, Citadel CHR 93Q (WNTQ) was positioned in its usual spot along the always-busy walkway between the Dairy Building and the International Building, with its trademark giant blue boombox.
Time Warner Cable's 24/7 local news channel YNN is located outside of the Science and Industry Building, immediately visible to the right as fairgoers enter through the main gate.  Even though most of YNN's anchoring is handled from Albany these days, they've been doing some live anchoring from a makeshift studio on the deck, complete with overhead lighting and teleprompters.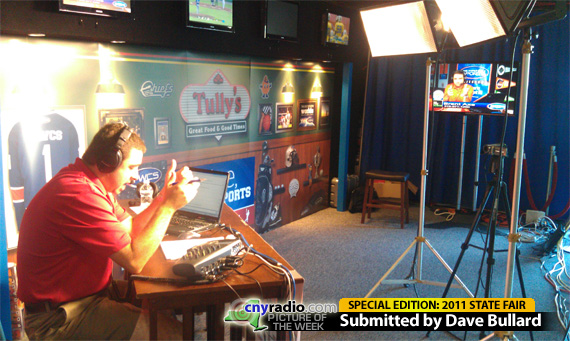 Earlier this week, Brent Axe hosted his show On The Block live from the Fair.  Our thanks to Dave Bullard for sending in this photo.  Axe's show is simulcast on Citadel sports talker The Score 1260 (WSKO) and Time Warner Cable Sports.  Axe was located only a few feet away from the YNN deck, just inside the Science and Industry Building.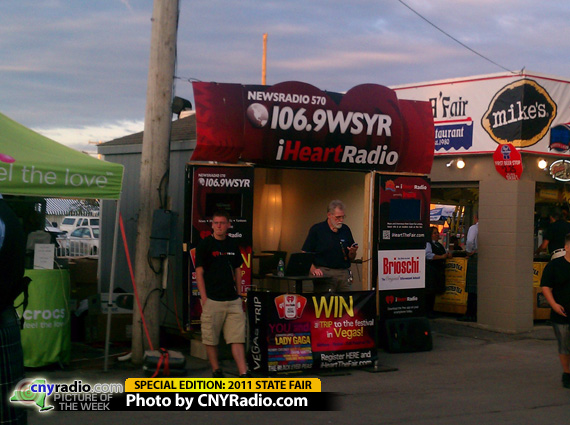 Also near the front gate -- but you'll have to take a sharp left turn and look almost behind you -- is where you'll find FM NewsRadio 106.9 and 570 WSYR and their iHeartRadio booth.  Big Jim Donovan from Central New York's Saturday Morning News is standing behind the podium.  Clear Channel Syracuse launched a special iHeartRadio channel called "iHeartTheFair" featuring non-stop information fairgoers can listen to as they roam the grounds.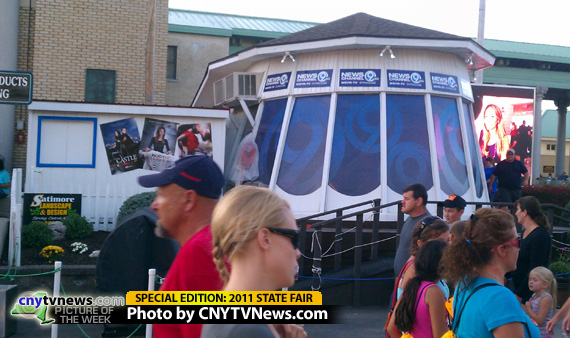 Further down into Chevy Court, you'll find ABC affiliate NewsChannel 9 (WSYR-TV) in its usual spot, near the east entrance to the dairy building.  By the time your editor could make it to the fair, the news was over, so the crowds and equipment were already packed up, but worth noting: new "screens" on the hut windows, showing the new "circle 9" logo WSYR unveiled when local news upgraded to HD earlier this year.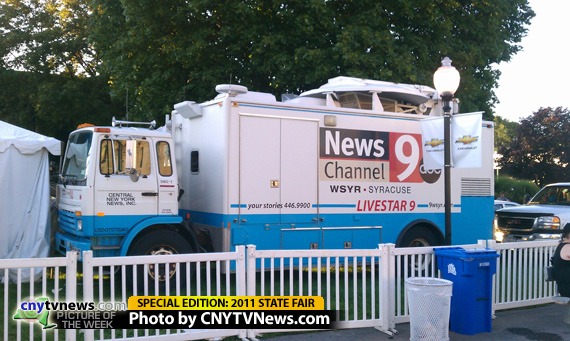 On the other side of Chevy Court, you might spot the station's vintage logo on "Livestar 9," which serves as a remote control room.  In addition to doing the majority of the noon, 5, 5:30 and 6:00 newscasts live at the fair, the station's weekday talk show Bridge Street has been broadcasting live before audiences at Chevy Court.
On the first trip (of three) your editor made to the fair, we happened to spot none other than New York Lottery spokesperson Yolanda Vega -- known for calling out the winning lottery numbers on NewsChannel 9 and several other television stations across the state.
On the eastern side of Chevy Court, outside the Center of Progress Building, you'll find the rest of Syracuse's television stations.  Once again, the CNY Central trio of stations (NBC-3/WSTM, CBS-5/WTVH and CW-6/WSTQ) has teamed up with PBS affiliate WCNY-TV.  When we came by, investigative reporter Jim Kenyon was on-hand to greet viewers and sign autographs.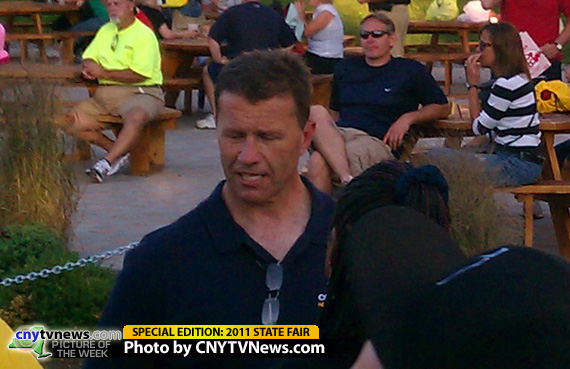 Also on hand, a few feet away, was CNY Central Chief Meterologist Wayne Mahar, who happened to be surrounded by a cluster of fans as we passed by.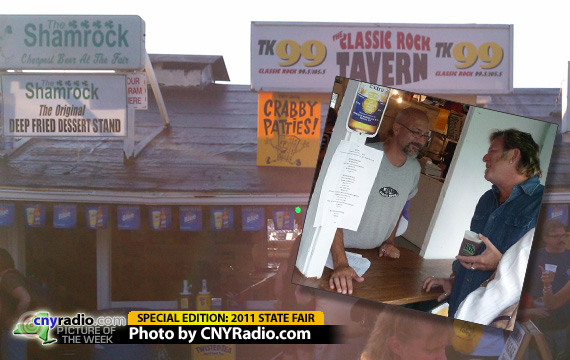 Along the walk to the midway, you'll find some folks working overtime for a great cause.  Once again, personalities from Galaxy classic rocker TK99 (WTKV) have been taking turns working as celebrity bartenders at The Shamrock, aka the TK99 Classic Rock Tavern.  Inset, midday host Dave Frisina (left) talks to musician Doug Moncrief.  Tips collected by TK99's celebrity bartenders are being donated to the Special Olympics.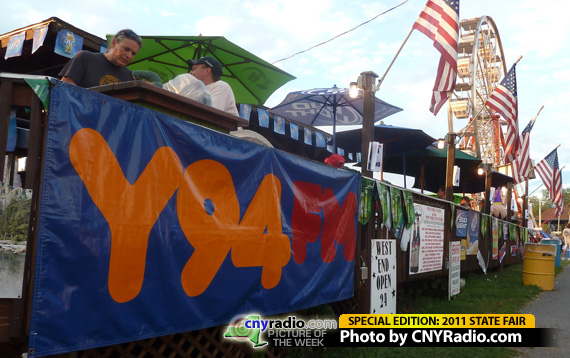 While WSYR radio was located near the main gate, the rest of Clear Channel's stations are located at the west end of the Fair.  We found adult contemporary Y94FM (WYYY) in the same place as last year, but there weren't any on-air personalities on-hand when we stopped by on Wednesday evening.  Tony Fallico was live for Saturday Night at the 80s last weekend -- we're not sure if he'll be back again tomorrow night.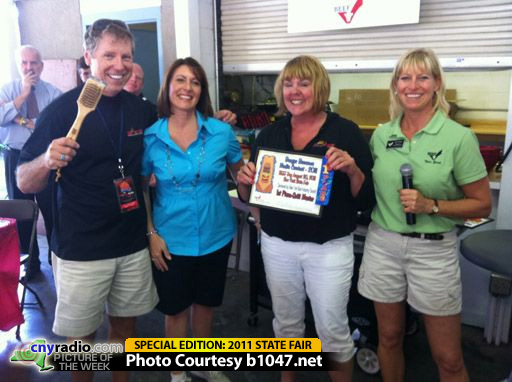 We heard that country B104.7 (WBBS) and CHR Hot 107.9 (WWHT) would be at the western end of the fair near the kiddie section of the midway, but after circling the area, we couldn't find them.  So, we borrowed this photo from B104.7's website.  From left, morning co-host Tom Owens, news anchor Christie Casciano and co-host Becky Palmer accept an award for their "Hula Hula Burger" on Beef Day at the fair.  They've got an entire gallery of photos from Beef Day.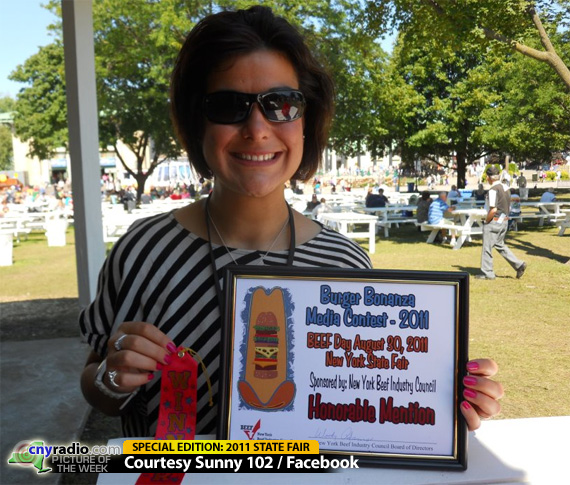 This photo added 12:30pm -- Last but not least, there's no "booth" for Galaxy's classic hits Sunny 102.1 (WZUN) at the fair, but morning host "Big Mike" Fiss wrote in this morning to tell us about his photo of his co-host, Melissa Midgley.  She took home an honorable mention for her own hamburger creation at Beef Day, this past Tuesday.
Got Pictures?
That does it for another New York State Fair... if you haven't been yet, you've got through Monday to check it out.  Next Friday, it's "back to"regular programming" for Picture of the Week... meaning the door's open for your submissions!  Since we've had a very healthy dose of Syracuse photos this week, we encourage those of you from Utica or Ithaca to get in on the action!  Radio or TV, recent or historical, send those shots to cnyradio@cnyradio.com!