PULASKI --  If you know anyone who enjoys fishing, chances are they've told you the stories about "the big one" they claim to have caught, or nearly caught... and you wonder if they're really telling the truth or spinning a tall tale.  Well, for one fisherman who used to forecast the weather for Central New York TV viewers, there's no question about it -- he's got photographic evidence!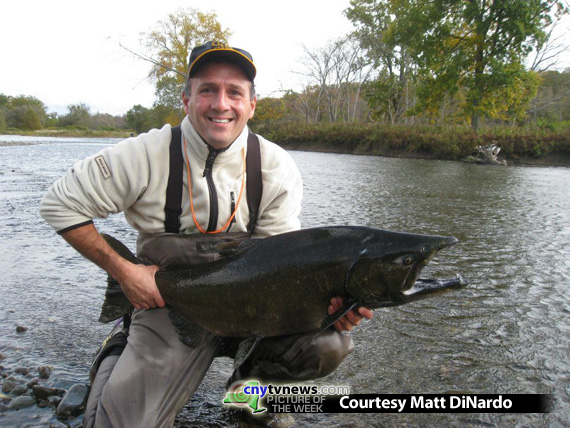 That's none other than meteorolgist Matt DiNardo, who worked for more than a decade at WKTV NewsChannel 2, the NBC affiliate in Utica.  Even though he left in 2004 for his current job at WRIC in Richmond, Virginia, DiNardo still returns to Central New York occasionally.  In this photo, DiNardo shows off a 30-pound King Chinook salmon he caught along the Salmon River in Pulaski earlier this month.
That's just one of many fish DiNardo caught and posed with -- you can see the rest on his Facebook page.  And if you're wondering how he got away with catching so many, DiNardo noted, "all of the fish in these pictures were caught and released."
Got
Halloween

Pictures?

With Halloween coming up on Monday, we'd love to run photos of local on-air personalities in costume for next Friday's Picture of the Week.  Don't worry about rushing to be first -- we'll run all submitted photos that arrive by 4pm next Thursday.  Just send those shots to cnyradio@cnyradio.com or upload them via the Contact Form!