SYRACUSE -- The 9th annual "Radiothon for Kids" is underway this hour on Clear Channel stations B104.7 (WBBS) and FM Newsradio 106.9 and 570 WSYR.  The radiothon aims to raise money to benefit Upstate Golisano Children's Hospital.  This year, broadcasters will be focusing on helping local children who are battling cancer and blood disorders.
Upstate Golisano Children's Hospital, as a member of the Children's Miracle Network, is required to provide treatment for any child who comes through the door, with any health issue, regardless of the family's ability to pay for the child's treatment.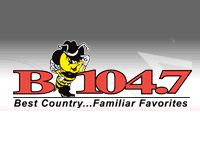 On its website, the hospital says more than 70 local children are diagnosed with cancer or blood disorders every year.  But, as "the only facility in the region" equipped to treat children with cancer and blood disorders, "nearly 5,000 children" from surrounding areas visit Upstate each year for chemotherapy, radiation and other care.
WSYR morning man Joe Galuski is broadcasting live from the lobby of Upstate University Hospital, while morning co-hosts Tom Owens and Becky Palmer are anchoring radiothon coverage for B104.7.
The radiothon is scheduled to run 5am to 6pm today and tomorrow, and 5-9am on Friday.  If you want to donate, call 315-464-4416 or visit www.foundationforupstate.org.