SYRACUSE -- Some notable names from the radio industry at this year's annual reunion of alumni from Syracuse University's student-run Z-89 (WJPZ).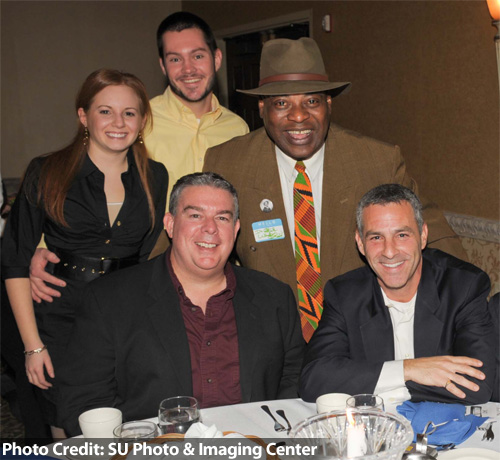 That's Newhouse professor and Power 106.9 (WPHR) host Dr. Roosevelt "Rick" Wright standing with the hat on.  Seated to his right is nationally-syndicated radio host and Z100 (WHTZ/New York) icon Elvis Duran.  And to Duran's left is his business partner, talent agent David Katz.  The latter two delivered a joint keynote address advising students and alumni how to be "Always On" -- just like radio.
Wright also addressed the crowd, as one of the first four people to be inducted into the WJPZ Hall of Fame.
The WJPZ Alumni Association website has a full page summarizing "Banquet 24," along with an additional 13 pages packed with other photos from the event.
Thanks to Citadel's Tom Mitchell for pointing out an error in our original caption.  We apologize for any confusion!
Got Pictures?
We're always interested in what's happening at your station today, or a look back at a notable memory from the past.  Our Picture of the Week is a hungry beast to feed, with a new photo debuting every Friday.  E-mail your pictures to cnyradio@cnyradio.com or upload your submissions via our Contact Form.