SYRACUSE -- Merry Christmas, everyone!  Last week, we announced we wanted to go with a Christmas theme for today's Picture of the Week... so Tom Herbert sent in some photos from the Mars Hill Network's Christmas broadcast, held last week in Liverpool.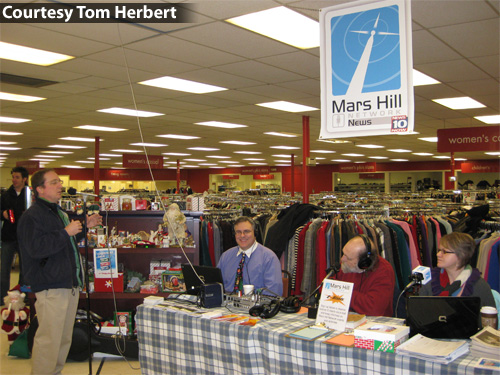 Herbert says the man standing at the left is Chasz Parker, Executive Director of the Syracuse area Rescue Mission.  He was being interviewed by (from left) Mars Hill Program Director Mark Hard, Morning Host Dan Dunn and News Director Valerie Case.
The broadcast took place last Friday, the 18th, inside the Rescue Mission's "Thrifty Shopper" store in Liverpool.
Got Pictures?
Our thanks to Tom Herbert for sending in this picture and a few others (we thought this one was the best).  Remember, next Friday is New Year's Day!  Got any pictures from local radio station events from previous New Years' celebrations?  Send them in to cnyradio@cnyradio.com or use the Contact form.